Can You Forgive Someone and Still Be Hurt?
"Can you forgive someone and still be hurt?", is a common question I hear in counseling. We are naturally driven toward things that feel good and avoid things that don't feel good. Therefore, we want the pain of an offense to go away. The real reason we wonder if we can forgive someone and still be hurt is that we are experiencing pain and are trying to figure out if it's unforgiveness that is causing the pain to continue. Unfortunately, forgiveness doesn't equal immediate pain relief, especially when dealing with a deep wound. Forgiving someone and still being hurt is much more complex than a simple formula.
What is forgiveness?
Simply put, forgiveness is releasing someone from your punishment and entrusting the offense to God. As Christians, we receive forgiveness through the redeeming work of Christ's death on the cross. Jesus paid the debt for our sins. In other words, He took the punishment we deserved- death (Romans 3:23). We are called to forgive as we have been forgiven (Ephesians 4:32).
Keep in mind that forgiveness is a choice – and action we choose. Forgiveness is not a feeling or instant healing and pain relief.
Why is it hard to forgive someone who hurt you?
The pain caused by sin has a powerful impact on us as individuals. When we are deeply wounded, it's natural to become angry at the person who caused to the pain.
Nobody wants to deal with emotional pain caused by the offense of another. However, everyone is faced with pain and the choice to forgive. We are imperfect people living in an imperfect world.
Forgiveness and Healing
There are a couple important things you need to know about forgiveness and healing. First, forgiveness and healing are not the same. Forgiveness is a choice to release the offender from our punishment and entrust it to God. It happens in a single moment. Healing is a journey that takes time and intention. Keep in mind though, forgiveness is the first step that kicks off the journey to healing.
Second, forgiveness is the foundation that healing can be built upon. If you are waiting to heal before you forgive, it will be hard to ever choose to forgive the offense. Imagine building a house. Before the walls, roof go on the foundation is poured. Forgiveness is the foundation that we build the house on. In other words- we must pour the foundation of forgiveness before the beautiful home (healing) can be built.
So how do we heal after forgiveness?
When the question, "Can you forgive someone and still be hurt?" comes up, I believe the real question is –"How do I heal?" There are several areas we can begin to take action on the journey toward healing. Notice I said, "take action" – there is a certain amount of intention we must exert in healing from past pain.
Processing Pain
There are 2 ways to process through emotional pain: verbal and written. Verbal processing is done with wise counsel – talking about the events, thoughts and feelings from your perspective. It isn't productive to curse the person who hurt you (Matthew 5:44). Rather, process your perspective and experience. Choose someone who will speak life into the situation. Possibly a wise friend, a pastor or receive Christian counseling. Verbal processing simply brings the offense into the light.
Next, written processing. Research shows this is an incredibly powerful way to heal from past hurts. This works well alongside verbal processing. Wise counsel isn't available 24/7 – writing things down brings complex thoughts and feelings into order.
It is important to end the journaling with positive takeaways. Without this component in your writing, it can be counterproductive. Get a free downloadable journaling guide with prompts to get you started.
Be Prayerful
Work through emotional pain and past hurts with God. He is ultimately our strength, refuge (Psalms 46:1-3), and healer (Jeremiah 30:17). Cast your burdens on Him (1 Peter 5:7).
Check out 5 purposes of pain here.
Change Your View
When I've experienced a deep hurt, my perspective gets quite narrowed to the offense and my pain. Doing so slows my healing as I turn over the event and the pain in my mind again and again. This is only one view of the event.
Consider that hurting people, hurt people. Often, people are doing the best they can with the few tools they have. They might not be equipped to do things differently – yet. This isn't excusing or tolerating – just trying to gain understanding.
Give thought to the work God is doing in and through the situation. After all – He promises to use this hurt for your good and His glory (Romans 8:28). Every deep hurt I've experienced has strengthened me and prepared me to encourage others. That blessing only comes through God's grace (2 Corinthians 12:9). Pulling positives out of negative situations brings healing. More importantly, it shifts my eyes from my pain upward toward God and His grace.
Can you forgive someone and still be hurt?
In a word – absolutely! Forgiveness is the foundation that must be laid in order to journey toward healing. When we forgive someone, instant healing doesn't come (especially when the hurt causes deep emotional wounds).
Once forgiveness takes place, we can choose to be intentional in the healing process. We do this by processing verbally and in writing. Prayerfully bringing the offenses to the Most High. Choosing to broaden our view of the offense is vital component as well.
Don't forget to sign up for an instant download of the forgiveness journaling prompts. It comes straight out of the forgiveness work book.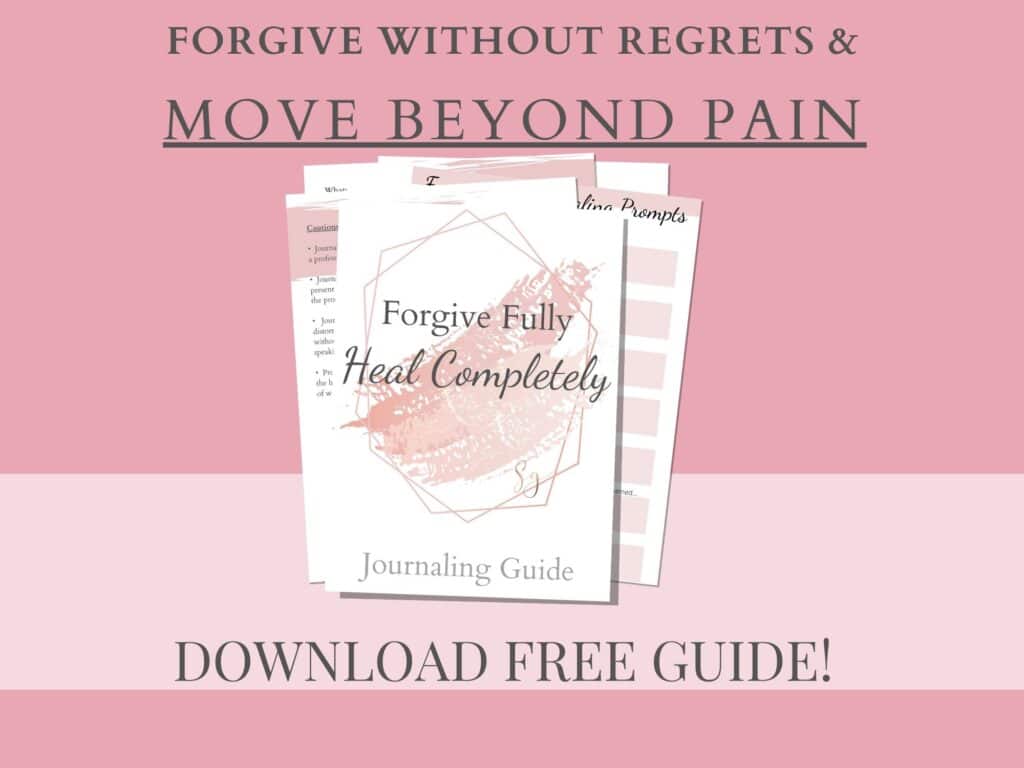 You might also like these articles on forgiveness…
Can you forgive and still not trust?
How do I heal from bitterness and resentment?