35 Encouraging Bible Verses for Loneliness

Before we get into the list of Bible verses for loneliness, I have a question… Did you know you were made for love and belonging? It's part of our DNA as image bearers of the Most High God. We are created for real relationship, first with God, then with others. It's inevitable- everyone will experience loneliness. We may experience loneliness from actually being alone or even perceiving we are alone (feelings of loneliness). It's entirely possible to be in a room full of people and feel disconnected and alone as a result. Additionally, you may literally be alone in your work, home or otherwise. Feelings of loneliness can feel like dark times and lend to other distressing emotions such as sadness, depression, anxiety and hopelessness. This article is going to highlight ways to experience more connection regardless of your circumstances. The first defense is God's Word so you can better understand God's love and presence with you- All. The. Time.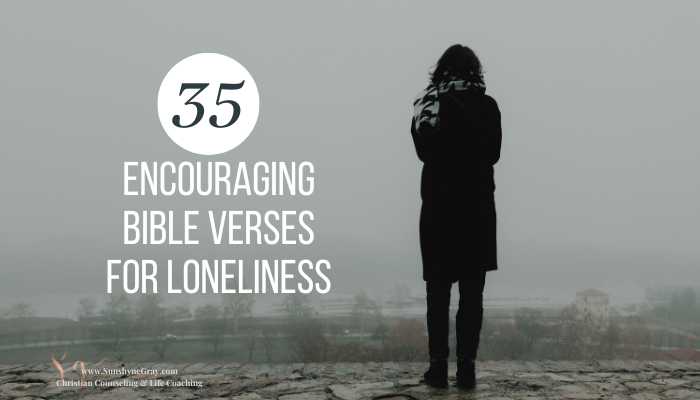 The Feeling of Loneliness
There are so many different reasons a person can come to the feeling of loneliness. During COVID, a whopping 36% of people reported feeling lonely. Social media can lend to feeling as though you are surrounded with people, however there isn't much connection in hitting the "like" button on a post. It doesn't lend to real relationship or real connection, which results in feeling lonely.
As already mentioned, there is a difference between being alone and feeling alone. Let's address the feeling of loneliness- feeling lonely branches off into so many other negative thoughts and feelings, such as, not feeling heard, or feeling isolated even when surrounded by others. Feelings of anxiety, depression and hopelessness arise. Additionally, decreased energy, insecurities and feelings of worthlessness become an issue. All of these thoughts and feelings that arise when we experience loneliness is such a heavy burden to bear, no matter who you are.
So what do we do with loneliness? The solution is 3 fold- look inward, outward and upward! Let's break this down a little further so you can have a way of escape from these feelings of loneliness.
Overcoming Feelings of Loneliness: 3 Fold Approach
Looking Inward
Looking inward is a powerful way to become aware of anything you are saying to yourself that might be leading to feelings of loneliness. Negative self talk could be branching off into more negative thoughts and feelings. Looking inward naturally lends to increased self awareness. The things we say to ourselves will impact how we feel and what we do (Proverbs 4:23). Anything we are saying to ourselves that doesn't align with God's Word will lead us down the wrong path and rob us of peace and joy. The information you gather from looking inward will help you determine the best course of action. "Looking upward" (below) will give you more information about action to take.
Check out, "Bible Verses to Overcome Negative Thinking"
Looking Outward
Earlier we talked about experiencing loneliness because we are actually not connecting with others. This can happen as a result of our circumstances that may be out of our control. It could also be that we have made choices that have led to being alone personally or relationally. In those cases, maybe spending more time looking inward would be of benefit. We can't change what we don't know. The information you gather from looking outward will help you determine your best next steps to address loneliness.
Looking Upward
I saved the best for last! When we have looked inward and outward and gathered information about our beliefs, thoughts, feelings and patterns of relating, then we are positioned to take thoughts captive that have led us astray. Lies of the enemy can make their way into our lives and if we don't use the powerful Scriptures to shed light on those lies then we might experience loneliness. Truth is the best way to battle loneliness. Additionally, if you find that there aren't any lies, but you still feel lonely, then powerful Scriptures can also encourage your heart! There are so many Bible verses that encourage us- while we may feel alone, we are never alone. God is always with us. Below are Bible verses for loneliness that will help you find the encouragement and reassurance your heart longs for. In times of loneliness it can be transformative to be reassured of the love of God and the peace of God.
Jesus Experienced Loneliness
For just as we share abundantly in the sufferings of Christ, so also our comfort abounds through Christ. 2 Corinthians 1:5
And about the ninth hour Jesus cried out with a loud voice, saying, "Eli, Eli, lema sabachthani?" that is, "My God, my God, why have you forsaken me?" Matthew 27:46
There is so much we can learn from the life of Jesus. Jesus endured feelings of loneliness as well. Consequently, we share in the sufferings of Jesus as well as our comfort abounds through Christ Jesus (see verse above). If the Son of God experienced loneliness, we can be encouraged that we are not alone in that experience. The Scriptures invite us to receive comfort, reassurance and peace in the bible verses for loneliness are listed below.
35 Bible Verses for Loneliness
You will keep in perfect peace those whose minds are steadfast, because they trust in you. Isaiah 26:3
And I will ask the Father, and he will give you another advocate to help you and be with you forever-The Spirit of truth. The world cannot accept him, because it neither sees him nor knows him. But you know him, for he lives with you and will be in you. I will not leave you as orphans; I will come to you. John 14:16-18 (The Holy Spirit is always with you)
The Lord will guide you always; he will satisfy your needs in a sun-scorched land ans will strengthen your fram. You will be like a well watered garden, like a spring whose waters never fail. Isaiah 58:11
Cast all your anxiety on Him because He cares for you. 1 Peter 5:7
The LORD is my shepherd, I lack nothing. He makes me lie down in green pastures, he leads me beside quiet waters, he refreshes my soul. He guides me along the right paths for his name's sake. Even though I walk through the valley of the shadow of death, I will fear no evil, for you are with me; thy rod and thy staff, they comfort me. You prepare a table before me in the presence of my enemies. You anoint my head with oil; my cup overflows. Surely your goodness and love will follow me all the days of my life, and I will dwell in the house of the LORD forever. Psalm 23:1-6
Praise be to the God and Father of our Lord Jesus Christ, the Father of compassion and the God of all comfort, who comforts us in all our troubles, so that we can comfort those in any trouble with the comfort we ourselves receive from God. For just as we share abundantly in the sufferings of Christ, so also our comfort abounds through Christ. 1 Corinthians 1:3-5
If I rise on the wings of the dawn, if I settle on the far side of the sea, even there your hand will guide me, your right hand will hold me fast. Psalms 139:9-10
Be strong and courageous. Do not be afraid or terrified because of them, for the Lord your God goes with you; he will never leave you nor forsake you. Deuteronomy 31:6
I will not leave you as orphans; I will come to you. John 14:18
Then you will call, and the Lord will answer; you will cry for help, and he will say: Here am I. Isaiah 58:9
"I am with you and will watch over you wherever you go, and I will bring you back to this land. I will not leave you until I have done what I have pomised you." Genesis 28:15
So do not fear, for I am with you; do not be dismayed, for I am your God. I will strengthen you and help you; I will uphold you with my righteous right hand. Isaiah 41:10
And surely I am with you always, to the very end of the age. Matthew 28:20b
Wait for the Lord; be strong, and let your heart take courage; wait for the Lord! Psalm 27:14
Though the mountains be shaken and the hills be removed, yet my unfailing love for you will not be shaken nor my covenant of peace be removed," says the Lord, who has compassion on you. Isaiah 54:10
My soul clings to you; Your right hand upholds me. Psalm 63:8
For I am the Lord your God, who upholds your right hand; Who says to you, 'Do not fear, I will help you.' Isaiah 41:13
When the poor and needy seek water, and there is none, and their tongue is parched with thirst, I the Lord will answer them; I the God of Israel will not forsake them. Isaiah 41:17
For the Lord will not forsake his people, for his great name's sake, because it has pleased the Lord to make you a people for himself. 1 Samuel 12:22
Let us then with confidence draw near to the throne of grace, that we may receive mercy and find grace in our time of need. Hebrews 4:16
If I take the wings of the morning and dwell in the uttermost parts of the sea, even there your hand shall lead me, and your right hand shall hold me. Psalm 139:9-10 ESV
Whoever dwells in the shelter of the Most High will rest in the shadow of the Almighty. Psalm 91:1
My flesh and my heart may fail, but God is the strength of my heart and my portion. Psalm 73:26
God is our refuge and strength, a very present help in trouble. Psalm 46:1 ESV
The Lord your God is with you, the Mighty Warrior who saves, He will take great delight in you; in his love he will no longer rebuke you, but will rejoice over you with singing. Zephaniah 3:17
Come to me, all you who are weary and burdened, and I will give you rest. Take my yoke upon you and learn from me, for I am gentle and humble in heart, and you will find rest for your souls. For my yoke is easy and my burden is light. Matthew 11:28-30
For my father and my mother have forsaken me, but the Lord will take me in. Psalm 27:10
Peace I leave with you; my peace I give to you. Not as the world gives do I give to you. Let not your hearts be troubled, neither let them be afraid. John 14:27
Turn to me and be gracious to me, for I am lonely and afflicted. Psalm 25:16
And he said, "My presence will go with you, and I will give you rest. Exodus 33:14
The Lord is close to the brokenhearted and saves those who are crushed in spirit. Psalm 34:18
You will keep in perfect peace those whose minds are steadfast, because they trust in you. Isaiah 26:3
Cast your cares on the Lord and he will sustain you; he will never let the righteous be shaken. Psalm 55:22
Do not be anxious about anything, but in every situation, by prayer and petition, with thanksgiving, present your requests to God. And the peace of God, which transcends all understanding, will guard your hearts and your minds in Christ Jesus. Philippians 4:6-7
I can do all this through him who gives me strength. Philippians 4:13
Wrapping Up 35 Bible Verses for Loneliness
Loneliness is a heavy emotion that can evoke fear, deep sadness, emptiness and distress. The love of Christ found in the Scriptures is one of the most powerful tools left for your comfort, encouragement and guidance. If you are navigating a lonely or broken heart, let the love of your Heavenly Father wash over you. Choose to look inward, outward and upward as the Truth helps you navigate the deep waters of your heart so that you can begin to be more connected to God and others. As you go through the list of Bible verses for loneliness consider a good bible verse to memorize that brings you comfort. Leave a comment- What Bible verse would you add to the list?