Do You Worry About What Others Think?
Do you worry about what others think about you? If we are willing to be really honest here, I would say the answer is yes. Or…maybe it's just me.
Have you ever been embarrassed by something your children did in public? Do you keep your thoughts or questions to yourself because you're afraid of what people will think about you? How about replay the conversation or interaction in your head over and over?… cringing over what you said? Finally, have you passed up sharing the gospel or talking about Jesus because you worried what others thought about you?
Everyone worries to some extent about what others think. In all transparency, I can answer yes to every single question above.
God knew fear of man would be an issue. The Bible speaks clearly on the topic. I will be sharing some of those Bible verses in this article. Even the world talks about worrying about what others think… it's called "approval addiction". Are you plagued with approval addiction?
When you are done reading this article, you'll still fear what others think about you at times, but you will have some understanding about the root cause and what to do about the fear. And that… will help restore some joy and peace to your life.
I believe that our thought life impacts our feelings and actions.
Guard your mind because everything you do flows from it. Proverbs 4:23
Typically, we first feel the discomfort of worrying about what others think about us. The feelings can be described as worry, fear, stress, etc. Next, we do something. For instance, we might think excessively about what happened that caused the uncomfortable feelings. Maybe we avoid certain people. Perhaps, we try to people please to win their approval.
Here's the thing though… it all started with a thought. Our thoughts drive our feelings and actions. Consequently, it can be hard to get to the root of the thought because thoughts are like heart beats or blinking eyes. Heart beats and blinking eyes happen without much thought – they are second nature. Likewise, thoughts are second nature as well. We pay very little attention to what we are thinking.
How to Stop Worrying About What Others Think of You!
So, what are you thinking? Awareness of the thoughts that are causing you to worry about what others think is the key. Pay attention to your thoughts. A few questions to help you get to the root thoughts are…
Identify what you are afraid they will think of you? What could happen if they think negatively of you? How would you like people to think of you? Why?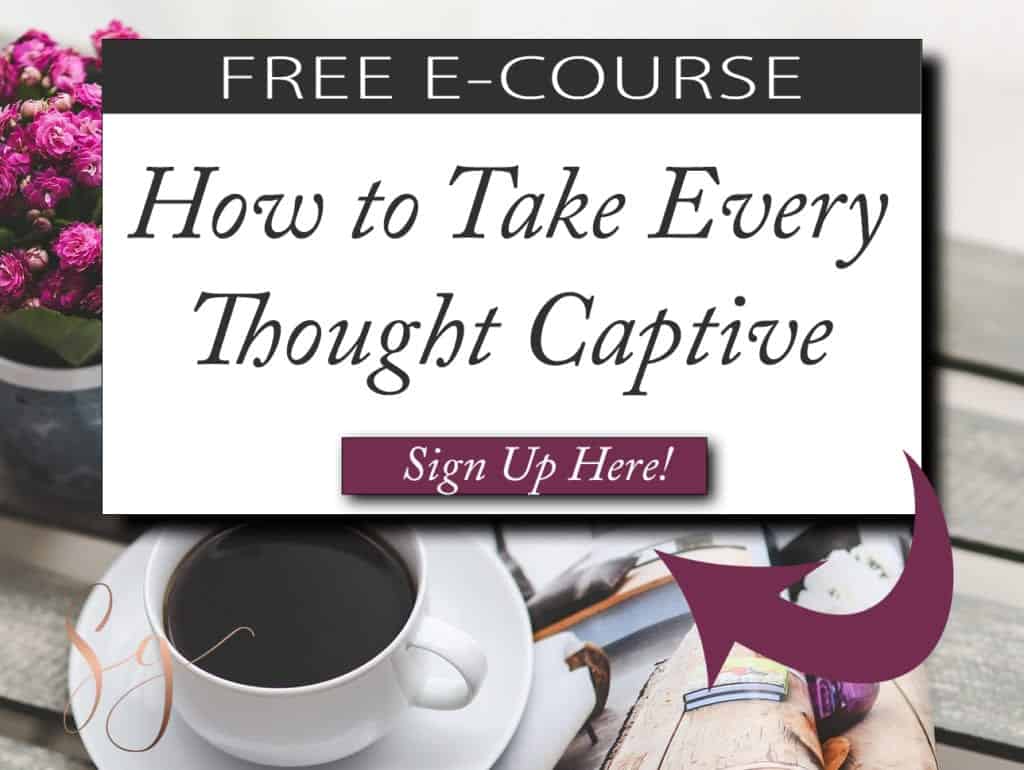 The problem of worrying about what others think of you…
Remember earlier when we talked about how we manage uncomfortable feelings with actions? Sometimes those actions/responses will cause us to do things that aren't part of our God-given purpose. Whenever I step outside of my God-given purpose, joy and peace begin to drain away.
When anxiety shoots up we often try to control our circumstances and/or people around us. In other words, trying to do stuff or act a certain way so others will think highly of us is exhausting. For example, we begin working and striving to win the approval of others. Not to mention, our motives are for increasing our glory rather than God's glory.
Keep in mind, working for the approval of people is also an energy/time drain. People change. All. The. Time. We can be a moody people right? What pleases people today won't please others tomorrow. Know this – once in Christ, you are approved by God. And nothing you do, good or bad can change that!
If you live for peopl's acceptance, you'll die by their rejection. ~Lecrae
What does God say in the Bible about fear of what others think?
Fear of man will prove to be a snare, but whoever trusts in the Lord is kept safe. Proverbs 29:25
"I tell you, my friends, do not be afraid of those who kill the body and after that can do no more. But I will show you whom you should fear: fear him who, after your body has been killed, has authority to throw you into hell. Yes, I tell you, fear him." Luke 12:4-5
So we say with confidence, "the Lord is my helper; I will not be afraid. What can mere mortals do to me?" Hebrews 13:6
Whatever you do, work at it with all your heart, as working for the Lord, not for human masters… Colossians 3:23
On the contrary, we speak as those approved by God to be entrusted with the gospel. We are not trying to please people, but God, who tests our hearts. 1 Thessalonians 2:4
For where your treasure is, there your heart will be also. Luke 12:34

No one can serve two masters. Either you will hate the one and love the other, or you will be devoted to the one and despise the other. You cannot serve both God and money. Matthew 6:24
It's time to stop worrying about what others think of you. Fear of what others think will drain you of joy and peace. Therefore, seek God's approval was already done when you came to Christ. God is unchanging – nothing you do can change your approval rating before him. He adores you and delights over you (Psalm 149:4).
Stop striving for the approval of people. It's time to do a new thing (Ephesians 4:22-24). Begin paying attention to the thoughts driving fear of what others think. Battle and challenge those thoughts rather than trying to decrease fear through striving and working for the approval of people.
God doesn't want you working that shift anymore. He has more for you – restored peace and joy as you live less for man and more for him.