7 Benefits of Forgiveness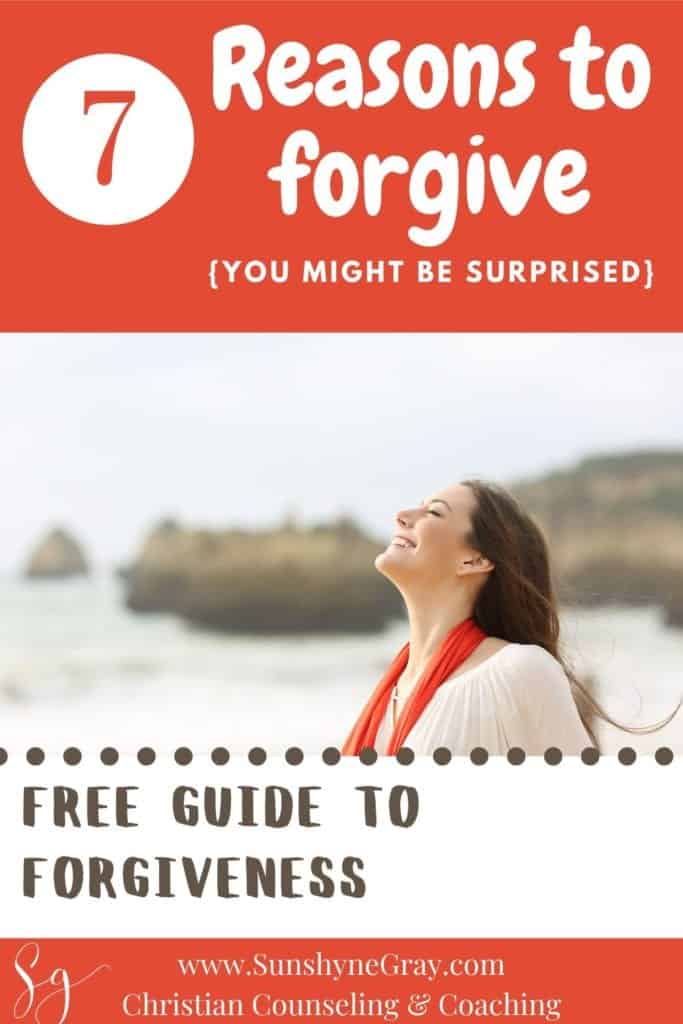 It's hard to imagine there are benefits of forgiveness, when we feel hurt and angry. Forgiveness becomes even more difficult when there is no apology or even an admission of guilt.
The difficulty in forgiving can often be our view of forgiveness as a gift to the offender. However, it's actually a gift to ourselves. When we choose to forgive, we reap the benefits of forgiveness.
Not forgiving someone is like drinking poison and expecting the other person to die. -Unknown
Can you remember the last movie you watched? Did you notice how the director shot the same scene from different angles? By doing this we gain different perspectives of the same scene.
Let's try that with the hurt you faced that likely brought you to this article on the benefits of forgiveness. You probably have viewed the hurtful situation (scene) from the same angle. Consequently, the view of forgiveness has been looked at as a gift to the offender.
For the duration of the article I want you to look at forgiveness only from the angle that sheds light on what you have to gain by offering forgiveness. Refusing to offer forgiveness is costing you (not them), more than you think.
Often, our interpretation of forgiveness leads us to stand our ground. We adamantly refused to offer forgiveness, demanding our rights. Narrowing our focus to the offense keeps us from seeing the benefits of forgiveness. God does not call His people to do anything that does not ultimately get worked for our good (Romans 828), including forgiveness.
As we get started, it's important to clearly define forgiveness. We need to be on the same page about exactly what we are offering.
What is forgiveness?
Forgiveness is an action or a choice to release an offender from our punishment and entrust it all to God. The dictionary defines forgiveness as "debt cancellation". As Christians, we are forgiven for our offenses through Christ taking the punishment for our sin by dying on the cross. It's Jesus's work on the cross that cancels our debt.
Forgiveness is also unconditional. We can forgive regardless of whether the offender apologizes or takes responsibility. In other words, our ability to forgive is not dependent on the actions of others. What a relief!
So, what does the Bible say about forgiveness?
Be kind to one another, tender hearted, forgiving one another, as God, in Christ forgave you. Ephesians 4:32
Bearing with one another and, if one has a complaint against another, forgiving each other some my calling as the Lord has forgiven you, so you must also forgive. Colossians 3:13
From these verses, it's pretty clear that forgiveness is a command. This leaves us with a choice. Do we choose to live out God's best and forgive or do we choose unforgiveness?
Choosing to forgive means we choose to enjoy the benefits of forgiveness. If we believe God is good and love, then we can trust that forgiving others is for our good.
What are the benefits of forgiveness?
Blessings
He replied, "blessed, rather are those who hear the word of God and obey it." Luke 11:28
God is the Author and Creator of the whole world. He is also Love. Consequently, His commands come from love for His people. He knows what's best for us. His Word gives us valuable information about how we are to live. But ultimately the choice is ours. Choose the blessings – not only a promise, but a benefit of forgiveness.
Freedom
When the kids were little, we had Disneyland passes. Upon graduating from strollers, I became a pack mule. I carried a backpack full of snacks, water bottles, sweatshirts and so much more, as we blazed a trail through the happiest place on earth. It wasn't until I set the bag down to climb onto a ride that I realized just how heavy the weight had become.
Unforgiveness is a heavy burden, too. It stays with us and wears us down, affecting many facets of our life. Unforgiveness erodes our wellness and grows bitterness and resentment. The weight of unforgiveness will continue to grow – hurting ourselves more than anyone else.
Improved Health
Research shows forgiving others actually leads to better physical health! What?! It's true… better heart health is among the top physical benefits of forgiveness. Apparently, studies are showing a lower risk of heart attack, reduced blood pressure and better cholesterol levels when we choose forgiveness. People also experience better sleep and reduced pain levels.
Better Mental Health
Those same studies also indicate better mental health is a benefit of forgiveness. People are experiencing reduced anxiety and depression when they forgive others. Also, stress levels tend to be lower. The most interesting part of the research was the increased likelihood of post traumatic stress disorder when hanging on to grudges.
Improved Relationships
Be kind to one another, tender hearted, forgiving one another, as God, in Christ forgave you. Ephesians 4:32
Forgiveness is a crucial skill set in a broken world. As a result, the better we are at forgiving others, the better our relationships become. Improved relationships are a big benefit of forgiveness.
I make mistakes every single day. The people with whom I'm closest, likely experience my shortcomings the most. If I and they, are not quick to forgive, the offenses would build up like a losing game of Tetris. Grace and forgiveness are a couple of the key ingredients in any relationship that thrives.
Healing
The choice to forgive someone who has hurt you is the first step toward healing. Healing will not come without forgiveness first. It's impossible to heal while holding on to bitterness and resentment.
Living in the Present
"Forget the former things; do not dwell on the past. Isaiah 43:18
Unforgiveness is keeping our mind set on the past. Living in the past robs us of the joy in the present. We will miss the blessings each day if the eyes of our heart are fixed on past offenses.
Wrapping Up Benefits of Forgiveness
Forgiveness isn't complicated, but it is difficult when we've experienced deep hurt. I encourage you to choose forgiveness. Remember that God commands us to forgive and He only commands the best for His people. The benefits of forgiveness include blessings, freedom, and better relationships. Forgiveness improves physical and mental health. It also starts us on the road to healing and living in the present.
You might also like these articles on forgiveness…
Can you forgive and still be hurt? (watch the video)
Can you forgive and still not trust?
How do I heal from bitterness and resentment?
What benefits of forgiveness have you seen? Leave it in the comments!