What is the Importance of Forgiveness?
It isn't surprising that forgiveness is a widely searched topic. We live in an imperfect world with imperfect people. Disappointment, hurt and betrayal, whether intentional or not are part of the human experience. Forgiveness and unforgiveness (which ever you choose), powerfully impacts every facet of our lives and the lives of those around us- spiritually, physically, emotionally and mentally.
Not if, but when you face disappointment, hurt or betrayal you come to a cross road. Picture a fork in the road… One path is forgiveness and the other is unforgiveness. In this article we are going to answer the million dollar question: what is the importance of forgiveness? Biblical truth weaved with modern research will paint a picture of both paths- unforgiveness and forgiveness.
What is the importance of forgiveness in Christianity?
Forgiveness is a verb defined as canceling a debt. Earlier, the it was stated that we live in a fallen world and we are imperfect people. As a result of those imperfections, we sin. Every. Single. Day. In Christianity, our sins add up to debt – but God made a way for our debts to be canceled. He sent His only Son to pay the price for our debt. In doing so, our debt is canceled through Jesus's death on the cross. He paid the debt for me and for you.
Be kind and compassionate to one another, forgiving each other, just as in Christ, God for gave you. Ephesians 4:32
We are called to forgive as we have been forgiven. This is an opportunity to glorify God by extending forgiveness, out of the abundance of the forgiveness we have already received. Furthermore, the forgiveness we received was at the cost of Jesus. While it is freely given to anyone who chooses to receive the gift of eternal life, the death of Jesus was the cost. The appropriate response is full devotion. Full devotion includes obedience. Offering forgiveness to others is part of that obedience.
What does God say about forgiveness?
God calls us to forgive others as we have been forgiven (Ephesians 4:32). The entire Bible is the greatest love story of all time. Everything points to Christ and the cross. We have redemption, the cancellation of our debt of sin through Jesus. Our Heavenly Father calls us to forgive out of the abundance of the forgiveness we received through Christ.
It's important to know that God doesn't call us to do anything He hasn't equipped us to do (2 Peter 1:3). He also doesn't call us to do anything He won't ultimately use for our good. Both of those promises are especially meaningful when it "can't" enters our narrative in the very complex area of forgiveness.
Check out 7 Scriptures on Forgiveness here.
What is the importance of forgiveness in healing?
Forgiveness is paramount in emotional healing. Without forgiveness we stall the process of moving forward. The choice to forgive, releases the offense to God to do with what He wills (Romans 12:9). Whereas, unforgiveness is where bitterness and resentment grows. When we are tending to bitterness and resentment, we can't attend to the processing and healing of the heart.
Forgiveness Offers Freedom From the Past
Another important aspect of forgiveness is freedom from the past. It's time we unshackle ourselves from the offense or hurt someone else caused. When we don't release the offense to God, we carry it around, allowing it to drain us of the energy to live presently. However, releasing the offense, paves the way to live freely in the present. No more looking back. Rather, it's living in the beauty of living in the moment.
What is the importance of forgiveness in relationships?
Forgiveness is a crucial skill set in a broken world. When we become good at forgiveness, our relationships thrive. We all fall short- every single day. Extending forgiveness invites grace in and reflects God's goodness and grace to those around us.
In our families, it is leaving a legacy of godliness. Forgiveness is a reminder to our relationships of unconditional love and compassion. Both important aspects of healthy relationships. Without forgiveness in our relationships, there is no thriving.
Sign up for the free guide to forgiveness to learn how to process pain and heal old wounds.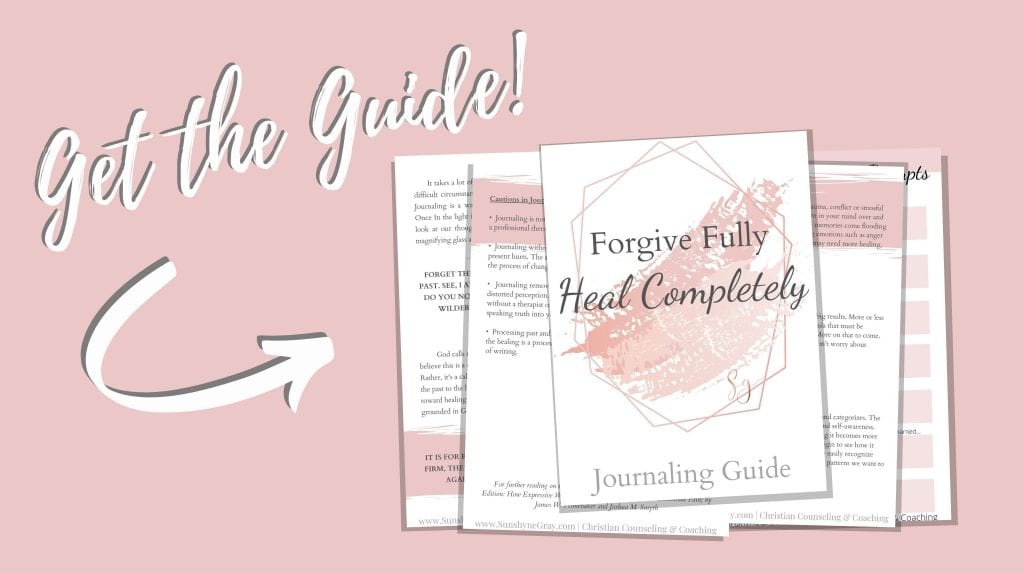 What is the importance of forgiveness in your relationship with God?
Unforgiveness will harm our relationship with God. Sin in every day life interrupts our fellowship with God. As a result, we come to Him with confession, asking forgiveness. How can we come before God humbly requesting forgiveness while refusing to extend it to others?
It's also important to note here – we are commanded to forgive as we've been forgiven (Ephesians 4:32). When we refuse to forgive, we are saying "no", to God. Without doubt, disobedience does not draw us closer to God.
Unforgiveness affects health in a big way!
Unforgiveness comes at a high cost- your physical health. Studies show that unforgiveness can cause poor sleep and fatigue. The burden of hanging onto an old wound can also result in higher anxiety and depression. It gets worse – your immune system is negatively impacted by unforgiveness. Physical health is an important factor to consider when forgiveness is needed.
Are you convinced of the importance of forgiveness, yet?
By choosing to forgive you are mirroring the forgiveness offered through Christ. Additionally, it's choosing obedience to God's Word and uninterrupted fellowship with Him. Thriving relationships, freedom from the past and better health, make forgiveness the obvious choice!
Learn more about the Forgiveness Workshop!