How to Fix Your Thoughts On Jesus
… fix your thoughts on Jesus, whom we acknowledge as our apostle and high priest. -Hebrews 3:1b
We've all heard to fix our thoughts on Jesus in Hebrews 3:1. In this article, we will take a look at what it means to fix your thoughts on Jesus and why it's important. And finally, how to practically apply this command to our every day lives.
As a Christian therapist and life coach, a great deal of what I target is at the level of thoughts. What we think matters! Our thoughts are at the root of our emotions and actions.
What we think matters!
Above all else, guard your heart, for everything you do flows from it. -Proverbs 4:23
The command of fix your thoughts on Jesus is a preventative measure. The thoughts we think are powerful, yet often go unnoticed. Thinking is second nature. Consequently, just like blinking or heart beats, thoughts go under the radar. We typically don't pay attention to what we are thinking. Thoughts are influenced by our life experiences.
We tend to notice emotions much more easily. Once we're feeling anxious, sad or any other uncomfortable emotion – we begin to do something to relieve the discomfort. See how thoughts interact with the emotions and actions?
It's important to clarify that fixing your thoughts on Jesus isn't magical thinking. This practice won't make the reality of life go away. Rather, it will help us in the midst of our circumstances. I also want to suggest that there are times when our thoughts are not entirely accurate and will lead us astray (Jeremiah 17:9).
Fixing your thoughts on Jesus is like taking a different camera angle. What was the last movie you watched? Did you notice how the same scene was shot from all different angles? We can choose the camera angle for our lives.
Often, we wrongly think we can't control our thoughts. However, we can choose where we set our mind. Science shows that we can only think one thing at a time. Why not be purposeful and choosing to fix your thoughts on Jesus? (The how is coming.)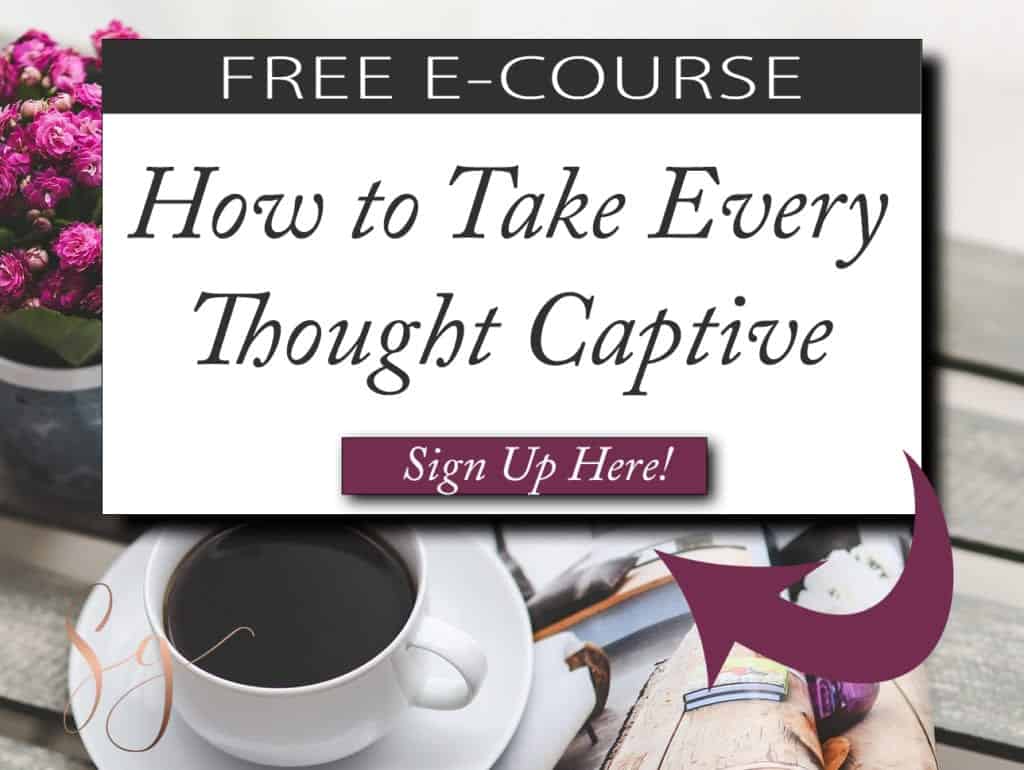 Why fix your thoughts on Jesus?
Jesus is hope.
We have this hope as an anchor for the soul firm and secure. -Hebrews 6:19a
In Hebrews 6:19a, my favorite two words are anchor and secure. Our worlds are rapidly changing. Whether it's our circumstances, relationships or even our moods – rapid change can feel a bit chaotic.
Fixing your thoughts on Jesus means you are putting your focus on the One who is the same yesterday, today and tomorrow (Hebrews 13:8). There is no place else you will find that kind of secure anchor, therefore we have hope.

Jesus is truth.
Jesus answered, "I am the way and the truth and the life. No one comes to the father except through me." John 14:6
The world around us defines truth as "a belief that is accepted as true". In other words, secular culture allows you to define your own truth to a large degree.
Research shows that witnesses to the same crime scene vastly differ from one another in their account of what happened. There are 2 reasons for this…
First, our brains are wired to fill in gaps of missing information. As a result, we make a lot of assumptions every day. This means we rely on assumptions to shape our truth.
Second, our life experiences shape our truth- also called perception. This is why fixing your thoughts on Christ is imperative. God's Word is the plumb line for truth. We stop defining our world and relationships by our standard of truth. And we start defining our world and relationships by God's truth.
Jesus is peace.
Peace I leave with you; my peace I give you. I do not give to you as the world gives. Do not let your hearts be troubled and do not be afraid. -John 14:27
The peace of Jesus surpasses all understanding (Philippians 4:7). Anxiety is the most common mental health issue out there. As a result, in the United States alone, 20% of adults experience anxiety and fear.
Fixing your thoughts on Jesus provides more peace in an ever changing world and constantly shifting life. This piece is not found in your circumstances, rather, it's found a spite your circumstances. In other words, your piece is found when you fix your thoughts on Jesus because He is our hope and truth.
So how do you actually fix your thoughts on Jesus?
7 Practical Ways to Fix Your Thoughts on Jesus

#1 Renewing Your Mind
Do not conform to the pattern of this world, but be transformed by the renewing of your mind. -Romans 12:2a
Renewing your mind is another way of saying, "read the Bible". Reading the Bible is a powerful way to transform and gain control of your thought life. If you're not sure where to start, check out the "3 question method bible study".
#2 Rejoice
Rejoice always… 1 Thessalonians 5:16
Rejoice means to "feel joy". We can experience joy despite our circumstances and even in the midst of a difficult time. Fixing your eyes on Jesus doesn't change the reality. However, it does change the focus. Difficult times are a reality, but so is the hope of Christ.
#3 Pray
… pray continually. -1 Thessalonians 5:17
When you are in a relationship with someone, talking with them is an important way to connect…by sharing your heart with them. Prayer is talking to God. How are you connecting with God? Will you commit to being more prayerful in order to fix your thoughts on Jesus?
#4 Practice Gratitude
… give thanks in all circumstances; for this is God's will for you in Christ Jesus. 1 Thessalonians 5:18
Gratitude is an incredibly powerful tool in everyday life. Modern research actually shows the wisdom of this command. People who practice gratitude actual report a boost in happiness by 25%! When it's hard to find things to be thankful for in difficult circumstances – fix your thoughts on Jesus and thank him for who He is and the work He's doing in the midst of your situation.
#5 Believe the Word of God Over Your Own Thoughts
We demolish arguments and every pretension that sets itself up against the knowledge of God, and we take captive every thought to make it obedient to Christ. -2 Corinthians 10:5
As you renew your mind, you become better equipped to lineup the truth of God's Word against the things we tell ourselves about our identity, circumstances and
even relationships. As you grow in the knowledge of the Lord you will be able to wield the Sword of the Spirit (Ephesians 6:17) to fight battles. Use God's Word, not only fix your eyes on Jesus, but to also face life with more clarity. (Learn how to take thoughts captive here.)
#6 Guard Your Mind
Above all else, guard your heart, for everything you do flows from it. -Proverbs 4:23
The world is pressing in on every side no matter what you do. Be purposeful in guarding what penetrates your heart. Being mindful of music, media and even the relationships in which you engage. Distractions from Jesus are One of the enemy's best tactics.
#7 Praise Him
He is the one you praise; he is your God, who performed for you those great and awesome wonders you saw with your own eyes. Deuteronomy 10:21
Praising God in any way – song, words or writing – sets the heart right. I find as I sing songs of praise my heart is reminded of how big God is and how small I am. Worship puts God in His rightful place in my life – as Lord.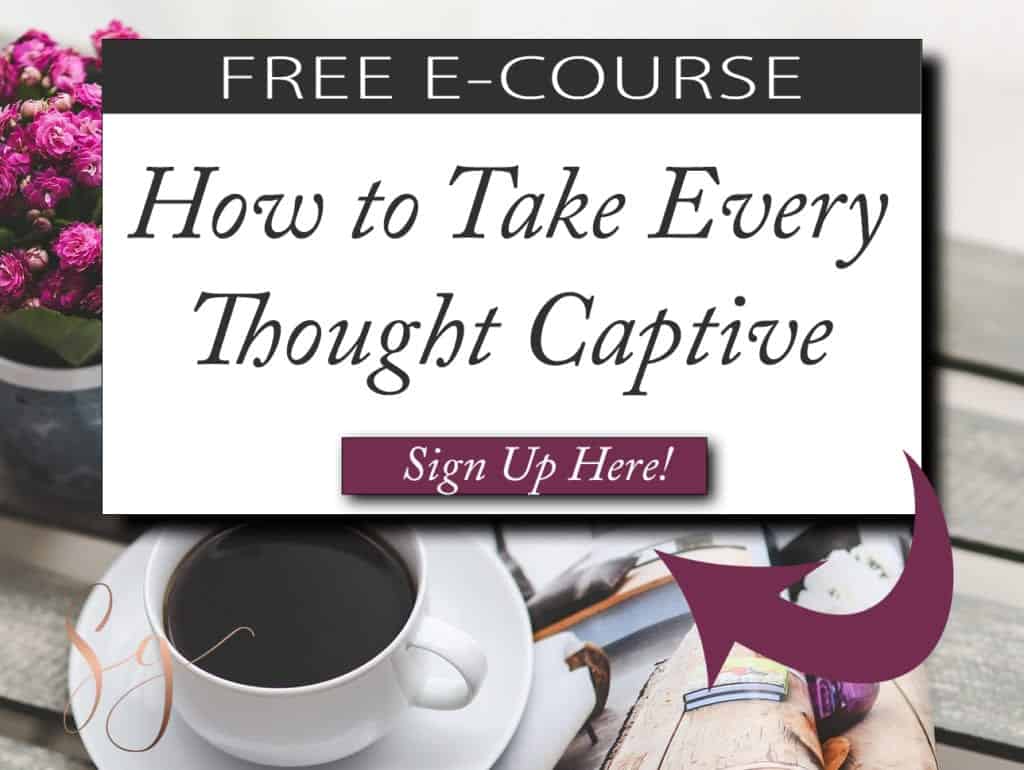 Fixing Your Thoughts on Jesus – Wrap Up
The most important things in life take purpose and intention. We have to choose to fix our thoughts on Jesus. Practical ways to do that include being in God's Word, praying and praising. Guard your mind, practice gratitude and rejoice despite difficulties we face. Finally, take a God at His Word believing his promises for your life.
How do you fix your thoughts on Jesus? Leave a comment below!