5 Ways to Manage Your Emotions
Learning how to manage your emotions can be a tough gig. We all face moments that reach the soft spots of our soul. We may not be able to control emotions, but we can choose to control our response.
Ready to dive in?
Can you think of a time you felt completely unable to manage your emotions? We all have those moments… A situation brings out a powerful response in us. Even in those moments we have a choice. We can spiral out of control or we can manage our emotions.
When I was a new driver, our family lived about 15 miles outside of a small town in the midwest. Many of the back roads were either roughly paved or covered in rock.
I lost control of my beat-up old car when I was speeding down the paved road and hit the rock road on a curve. My car spun around for what seemed like an eternity. All I could do was grip the steering wheel until the car was forced to stop by a street sign. It was so scary to have no control over the car.
When it was all over I just sat, relieved and heart pounding. I got out and surveyed the damage. Dents, driver side scraped up and a busted headlight. How was I going to explain this?
This is what it's like when we don't manage our emotions. Gripped with fear, waiting for it to pass then surveying the damage done.
This is what it's like when we don't manage our emotions. Gripped with fear, waiting for it to pass then surveying the damage done.
Has this happened to you?
Emotions may seem unmanageable, but they're not. We have a choice. We can choose to manage emotions rather than manage the damage done by loss of control.
What are emotions?
Emotions are feelings that are the byproduct of our thoughts and our actions. It is through our emotions that we express our thoughts, desires, opinions, beliefs and attitudes. In other words, emotions demonstrate our interpretation of life.
We are made in the image of God. We see in Scripture that God experiences emotions such as grief, anger and wrath. We, too, experience a range of emotions. If we didn't have emotion, we'd be like a bunch of robots walking around.
Emotions Affect Our Body
Emotions are very real and can be quite intense. Even our physical well-being can be affected due to the power of emotions. Worry can lead to ulcers. Stress leads to high blood pressure. Sleeplessness, weight fluctuations and headaches can all be the byproduct of our emotions.
Purpose of Emotions
We serve a purposeful God. Nothing in God's economy is wasted and that includes emotions. I would love to delete sadness, anger and frustration and keep joy, love and hope! However it's the negative emotions that bring out the pleasure of positive emotions… Also, God uses our emotions to reveal our hearts. Emotions drive us to the cross whether we're singing out praise or overwhelmed by sorrow.
I can't control how I feel…
There are different schools of thought on this topic. Some believe we feel what we feel and it can't be changed. Others say we can choose our emotions. I don't intend to differentiate between the two here. Rather, the focus will be: We can choose how to respond regardless of the emotions we are experiencing.
The moment we buy into the lie that we can't manage our emotions, we become a victim. In other words, our circumstances or people around us "make" us behave a certain way.
That's simply not true.
It's true, we have no control over others and often no control over circumstances, but we always have control over our response.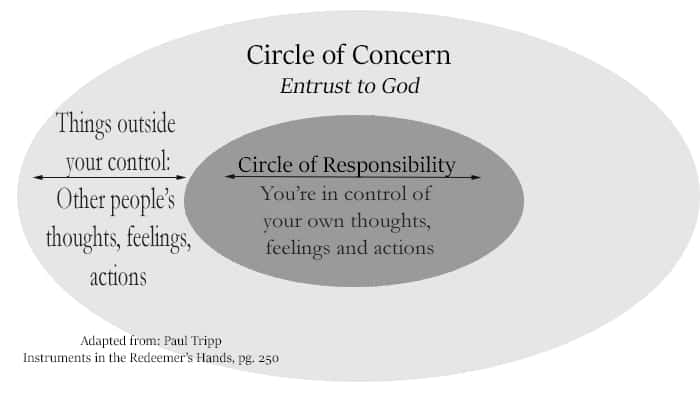 "For the Spirit God gave us does not make us timid, but gives us power, love and self-control." ~ 2nd Timothy 1:7
Self-control is part of our DNA. The moment we put our faith in Christ we are sealed with the Holy Spirit and He gives us the ability to control ourself.
What drives the strong emotions?
The driving force behind emotions goes much deeper than the feeling itself. Our emotions are driven by our thoughts, desires, opinions, beliefs and attitudes.
Now let's go deeper still.
Our thoughts, desires, opinions, beliefs and attitudes all come from our heart.
"Above all else guard your heart, everything you do flows from it." ~Proverbs 4:23

"For where your treasure is, there your heart will be also." ~Matthew 6:2
So what does this have to do with managing emotions?
Telling yourself to stop feeling a certain way typically doesn't work. Even if you're able to manage it by stuffing your feelings or distracting yourself, it will only work in the short run. The feelings you're trying to avoid will resurface. Getting to the "heart" of the matter is much more effective for lasting change.
5 Steps to Managing Your Emotions
"You were taught, with regard to your former way of life, to put off your old self, which is being corrupted by its deceitful desires; to be made new in the attitude of your minds; and to put on the new self, created to be like God in true righteousness and holiness." ~Ephesians 4:22-24
1.Put off a wrong view of emotions.
Don't view emotions/feelings as guides. Get rid of this kind of talk…
I got a feeling.
Go with your gut.
Follow your heart.
The moment we view our feelings as facts, we've got a problem. Remember the diagram. Emotions come from our thoughts, attitudes, opinions, desires and beliefs. Those things come from our heart, specifically what we treasure in our heart. Remember – we have a propensity to sin and shift.
The heart is deceitful above all things and beyond cure. Who can understand it? "I the Lord search the heart and examine the mind," ~Jeremiah 17:9-10A
Our feelings are unreliable at best. Don't view feelings as guidance for your response.
2.Put on a right view of emotions.
Emotions are better signals then guides. God uses our emotions to bring Him glory (that's our purpose). Whether your joyful and singing praises or overcome with sorrow-He uses emotion to draw us closer to Him. He uses emotion to indicate a need for refinement. He also uses our emotions as an indication that we need to take a deeper look within.
Having a strong emotion about something? …It's a signal to go deeper.
3.Going deeper with journaling.
"The purposes of a person's heart are deep waters, but one who has insight draws them out." ~Proverbs 20:5
Putting your experience to words, whether verbally or written, is a powerful tool for going deeper and sorting things out. Research shows that journaling has healing benefits. There are effective and ineffective ways to journal. Download the guide to get you started.
4.You are equipped with everything you need for a Godly life.
"His divine power has given us everything we need for a Godly life through our knowledge of him who called us by his own glory and goodness." ~2 Peter 1:3
The moment you gave your life to Christ you were sealed with the Holy Spirit. He guides you and gives you wisdom. Most importantly He has the built-in feature of self-control.
He is also the power source behind prayer and the Word of God. Without the Holy Spirit, prayers are just a bunch of words and the Bible is a history book.
Prayer
"This is the confidence we have in approaching God that if we ask anything according to his will, he hears us. And if we know that he hears us – whatever we ask – we know that we have what we asked of him." ~1 John 5:14-15
Pray for self-control. God desires that the fruit of the Spirit of self-control be reflected in you (for His glory). He promises to answer prayers in the affirmative when it lines up with His will. Managing your emotions lines up with His will! Pray for help in this area.
Bible study
"Do not conform to the pattern of this world, but be transformed by the renewing of your mind. Then you will be able to test and approve what God's will is- His good, pleasing and perfect will." ~Romans 12:2
The pattern of this world is to react in the moment. God's purpose in practicing self-control sets us apart and reflects the light of Christ. He left His Word for us as a guide to living life purposefully. Renewing our mind daily is one of the tools He has given us to live out our purpose.
5.Let go of "now" thinking.
It is a rare situation that things must be dealt with immediately. This "now" thinking can lead us to believe we must act immediately and emphatically. Practice this statement – "Let me think about that."
"My dear brothers and sisters, take note of this everyone should be quick to listen, slow to speak and slow to become angry…" ~James 1:19
This slows down and helps us gather our thoughts before acting. This is an important tool for practicing self-control. Pause. Breathe. Proceed slowly. This break is an ideal time for a quick journaling session. Sort out what is driving your emotions. Then respond accordingly.
Managing Your Emotions: Wrap-up
Managing your emotions can be a tough gig. We all face moments that reach the soft spots of our soul. We may not be able to control emotions, but we can choose to control our response.
Put off loss of control and put on controlling your emotions. Use the tools God has equipped you with: Holy Spirit, prayer and His Word. Learn how to journal effectively to sort emotions. Finally, remember to let go of "now" thinking.
While managing your emotions is difficult, it is within your ability to change patterns in your life.
When is it hardest to manage your emotions? Leave a comment below!