6 Steps to Stop Your Controlling Behavior
"You're so controlling!" Has that ever been said to you? It's been said to me and it was true! Rather than own it at that time, I went with the classic blaming method and excuse-making. I also hid behind my "Type A" personality excuse.
Fast forward time, I can now see, my control was rooted in fear. Before I talk about how fear motivates control, let's back up and talk about control.
Control is defined as the power to direct people's behavior or the course of events.
The problem with controlling behavior is, it's not part of God's purpose for your life. When we engage in patterns outside of God's purpose for us, joy and peace will leak out of our lives. This pattern is also very damaging to relationships. "I like being controlled", said …No One. Ever. It causes intimacy and communication to head for the door. Nobody wants that.
Control always starts out so subtly with quick wins. Huh? Let me explain. We usually start by feeling a little anxious, so we control just a small thing and the anxiety gets relieved. That relief is a quick win. It does not yield lasting results, but it is fast acting.
Let's face it… We love quick wins, immediate gratification and anything fast-acting. The downside is we end up chasing quick wins and then we have a pattern. Next thing you know, "You're so controlling!"
Ugh! Nobody wants to be that person. So what is motivating the control? …Fear!
Fear of what others think
Fear of abandonment
Fear of experiencing emotional pain
Fear of loss of control
Fear of failure
Fear of disappointment
Fear, fear, fear (this is not an exhaustive list, by the way)
Changing Patterns of Controlling Behavior
1. Awareness is key. We first have to know the difference between what is in our control and what is not.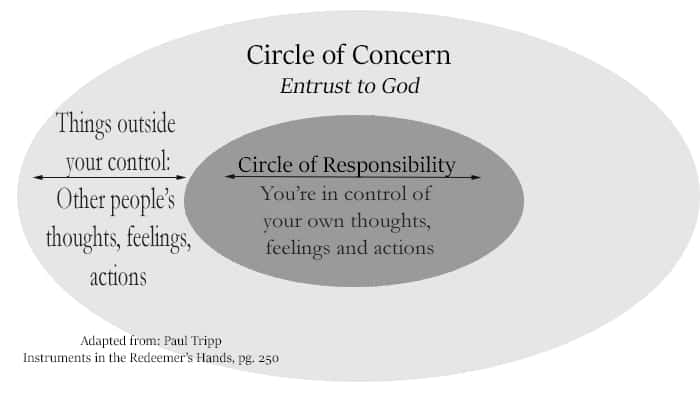 You are absolutely in control of your own thoughts, feelings and behaviors. You are not in control of other's thoughts, feelings and behaviors. This does not mean you shouldn't be concerned with other people's thoughts, feelings and actions, but we are releasing the idea or attempts to control others or circumstances. We are choosing to entrust our concerns to God.
For God gave us a spirit not of fear but of power, love and self-control. ~2 Timothy 1:7 ESV
2. Put your desire for changing controlling behavior into words. Confession is powerful. It sheds light on darkness and it's power is crushed. Talk with someone who is seasoned in their faith that will encourage and pray for you while keeping you accountable.
3. Journal for deeper understanding of the "why's". When we understand why we are controlling others or circumstances, we can effectively address the root of the problem…fear!
It's like pulling weeds. We can just mow them down so it all looks okay at the surface, but pulling them out at the root is more effective. The same goes for patterns of relating. If we try to do better outwardly only, we will grow weary. Instead, let's get to the heart of the problem.
If you decide journaling is the way to go, then use this suggested formula:
What happened (identify a time you were controlling)?
How did you feel / respond?
What were you afraid would happen if you didn't intervene or try to control the situation?
How could you have responded without controlling or intervening?
What will you do differently next time?
4. Recognize God's sovereignty and faithfulness. When we control, we're actually saying, "God can't/won't handle this my way, so I will". He is in control over all things.
"I know that You can do all things, and that no purpose of yours can be thwarted". ~Job 42:2(NIV)
5. Choose to trust in God with all the things that concern you rather than try to control the outcome. I remember a Beth Moore study I did years ago and something she said never left me… "Control is a screaming testament of your distrust in God". Ouch! It resonated with me. Who do you trust more… The Creator of the world or yourself?
6. Hold your desires loosely. When I find myself headed down that path of controlling behavior, it means I'm holding my desires with a tight fist. My fear becomes – things aren't going to go the way I want them to. Translated: My sovereign, trustworthy God might have a different plan than what I have planned. My prayer becomes – prepare my heart for Your plans.
Many are the plans in a person's heart, but it is the Lord's purpose that prevails. ~Proverbs 19:21 (NIV)
"Stop Controlling Behavior" Take Away
God's purpose for His people does not include controlling others or circumstances. He's got something better in mind… That you would trust Him and His plans for your life (gasp!).
First, we uncover the fear that's driving the control. As we become increasingly aware of much-needed change, we recognize God is in control and trustworthy. So we hold our plans loosely. Time to practice new patterns!
These steps require more than knowing… It requires doing. New patterns take practice. The temptation to control will still pop up, but now you have a plan!
What area of your life needs to be moved from your grasp and into God's hands? Leave a comment!