Forgiveness is powerful. Prayer is powerful. Love is powerful. When these three things collide, our world changes. Interestingly, God offers forgiveness to all of mankind by way of offering His Son to pay our debt (John 3:16). There is no greater love than this (John 15:13). Asking God for forgiveness through prayer sets us free… forever (John 8:36).
When faced with disappointment, hurt or betrayal, forgiveness can be hard to fathom. Forgiveness can seem like an impossible feat.
Jesus replied, "What is impossible for man is possible with God." Luke 18:27
Three words grab me- "possible with God". I picture teaming up with God to do impossible things. Offering prayer to forgive others is how we do forgiveness with God. Have you ever been part of a team where there is no communication? Prayer is communication with the One Who can do all things. Teams come together to face challenges with the intention to overcome and be victorious. Make no mistake, if the Most High is on your team, you will have victory in forgiving someone who has hurt you. God calls you to forgive, be assured that He has equipped you to do that which He has called you to do (2 Peter 1:3).
Components of Prayer to Forgive Others
Adoration
The longer I walk with Jesus, the clearer it has become- to fix my eyes on Jesus. Whether in a valley or a hilltop – setting your gaze on Christ settles peace in the heart and makes the ground you're standing on rock solid – a sure foundation.
One way to keep your eyes fixed on God is through praising Him for who He is. Walking through His attributes (AKA characteristics) in prayer, is helpful. Additionally, it shifts the focus from the disappointment, hurt or betrayal to the One Who is sovereignly in control of all things, including healing.
This component of prayer to forgive others is vital and forgiving fully and healing completely. Check out the following sample prayer to forgive others…
---
Prayer to Forgive Others: Adoration
Heavenly Father,
I praise you because you are the God who sees me. You know all things including my pain and every tear shed. Father God, you are near to me and my broken heart. I praise you because you work all things for my good. What someone intended for evil you intended for good. You alone can turn ashes into beauty, restore the years lost and do a new thing.
Lord, you are perfectly just and merciful. You are worthy of all my trust. Your love is perfect and faithful. I praise you because though the people and world around me may shift and change- you remain the same. You are my rock, my refuge and my redeemer. Only you can make possible the things that are impossible for me. You uphold me with your righteous right hand. You are worthy of all my praise. I need only be still because you are my God and you will fight for me.
---
Offering
As Christians we all offer our tithes and talents. However, we are to offer everything including our burdens to God. More often, it's my burdens that send me running to the arms of Jesus. It's in the arms of Jesus I find refuge, redemption and ultimately, abundance in the midst of pain.
Give your burdens to the Lord, he will take care of you. He will not permit the godly to slip and fall. Psalms 55:22 NLT
This would actually make my burden "my divinely given gift". Ironically, the original Hebrew for burden is yehab. The same word used for "what is given by Providence".
Offer your burden to the Most High… share what happened. There is healing in talking and writing through the facts. Then take it further, tell your Heavenly Father about the impact. What was the damage done by this? How are you feeling and guarding your heart now? What is the price you're paying for the pain another person has caused? Offer all of this to God – He will take care of you.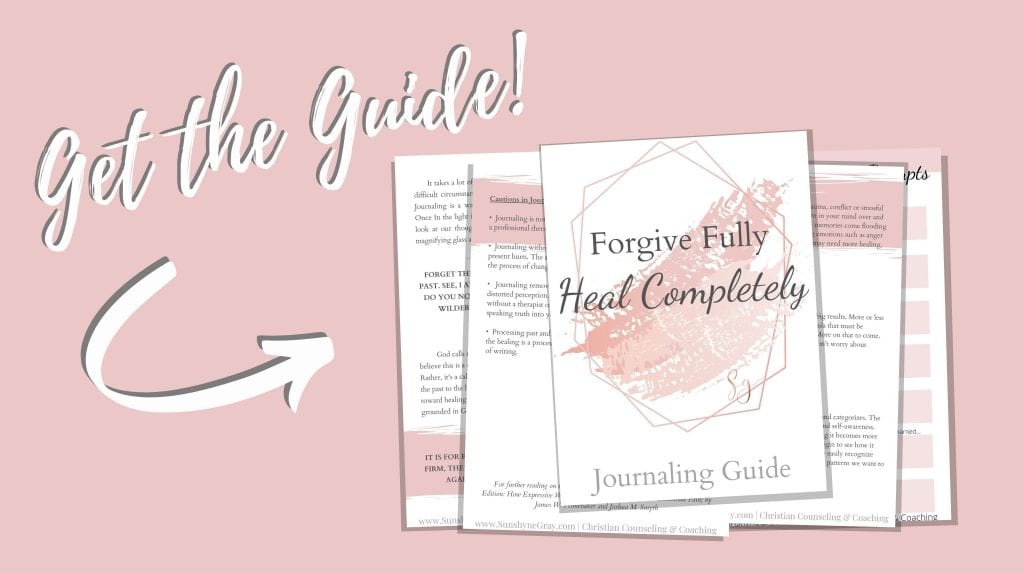 Gratitude 
Whether working on healing in a faith based or secular way, gratitude is a vital component.
Give thanks in all circumstances, for this is God's will for you in Christ Jesus. 1 Thessalonians 5:18
Practicing gratitude is an intentional shift to look away from the negative and towards the positive. Every situation has various angles. When we choose to see things from one angle, we miss out on all the other angles. Furthermore, when we see all that is going wrong and fix our eyes on it, our anxiety and depression go up. Whereas, when we shift to the positive, it expands the view to God's goodness in the midst of pain.
---
Prayer to Forgive Others: Gratitude
Thank you, God that what was intended for evil is going to be used for good. Thank you for your good plans for the situation. I give thanks that you use all things for my good and your glory, including this hurt. I'm grateful that you are near to me and my broken heart. Thank you for your faithfulness and love. I'm thankful that one day you will wipe away every tear and strengthen me and my faith through this. I think you that nothing escapes your awareness and you will deal righteously with this offense in your perfect time and perfect way.
---
Ask
In your prayer to forgive others, ask God to help you. We know that when we ask for anything according to His will, He hears and answers (1 John 5:14–15). His will is that we forgive others. This means when we prayerfully ask God to help us forgive and dissolve bitterness and resentment, He will do it!
Ask and it will be given to you; seek and you will find; knock and the door will be open to you. For everyone who asks receives; the one who seeks finds; and the one who knocks, the door will be opened. Matthew 7:7-8
Wrapping up Prayer to Forgive Others
Prayerfully bring your disappointment, hurt and betrayals to the Lord. He calls His children to forgive the offenses of others out of the abundance of the forgiveness we have received. He will enable you to do what He has called you to do- be prayerful!
When praying, start with adoration. He is worthy of all our praise. This is also a reminder of how big God is in proportion to our pain. Offer the situation up to Him- tell Him all about it. Then express gratitude for how He will use the situation, how you have already seen Him move in the midst of the pain. Finally, ask Him for what you need. Ask Him to help you and enable you to move forward in forgiveness. So much is accomplished with a willing heart!