Scripture Devotional – 1 Corinthians 15:58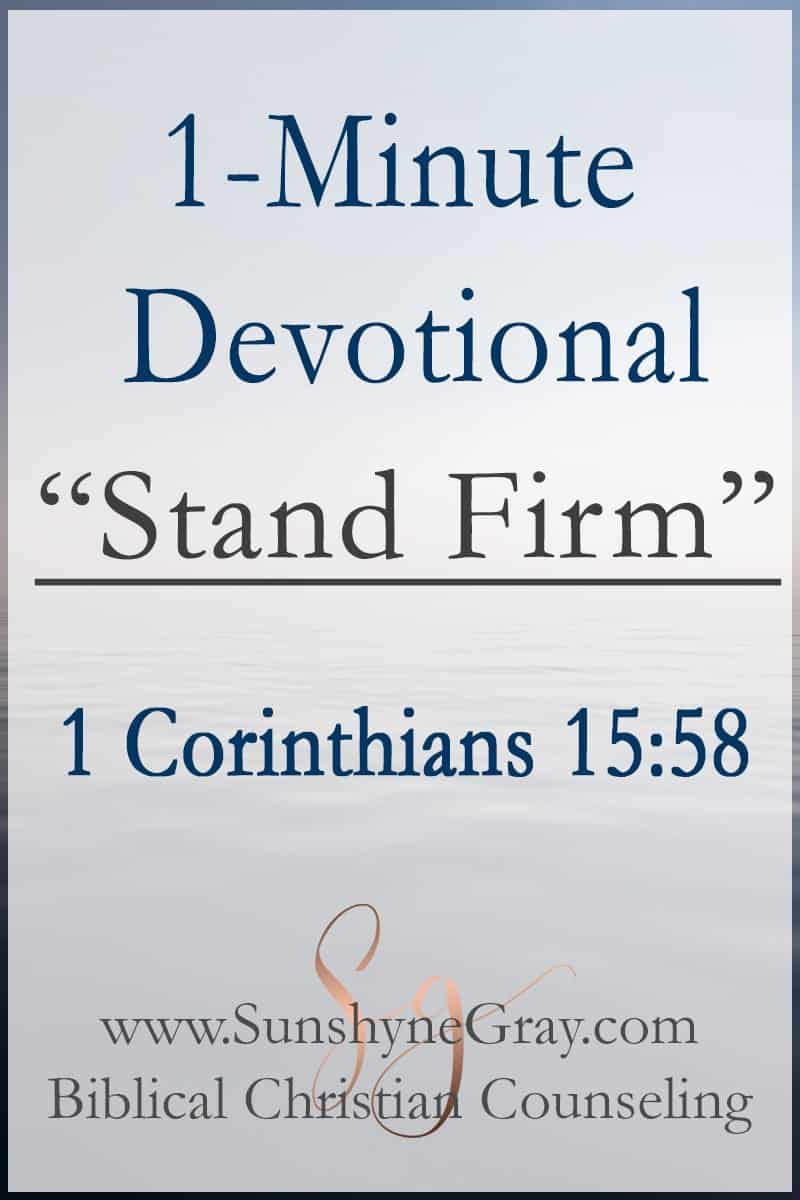 I like to get up before everyone in the house. It's usually dark and all I can hear is the hum of the refrigerator. Nobody needs me. I retreat to my office and turn on my dim lights and begin my coffe date with Jesus.
When I'm in the quiet of my office, no distraction or interruptions, I feel like an invincible disciple. Nothing could move me or cause me to lose my firm stance. Doing life God's way seems obvious and easy.
Then life happens…
My Gray-babies start waking up. The office door flies open – "What's for breakfast?"  "Where's my favorite jeans?"
Quiet time is over. The day begins. I no longer feel like an invincible disciple as I exit the office. My obedience to God's Word is challenged throughout the morning. It wavers with each demand.
I recall the phrase "let nothing move you". Nothing. Not even the little things. It's typically the little things that get me. The little things that move me. I grow impatient when my son can't find his shoes. I forget to be thankful for a home when it's messy. I worry instead of pray. I target my to-do list instead of the relationships God has entrusted to me.
This verse gives us 3 instructions:
Stand firm.
Let nothing move you.
Give yourselves fully to the work of the Lord.
Stand firm is another way of saying – don't change your position. We must not believe that God's Word is negotiable or can be compromised in the face of challenges. We are not excused from obedience when it gets hard. Or when my son can't find the shoes and we're running late.
The only way to keep anything from moving us is to be firmly rooted. The more we're firmly rooted we are in the Word, in a community of believers and in prayer, the less likely we are to be moved.
Are you firmly rooted?
Always give yourself fully to the work of the Lord. Whether I'm scrubbing last night's dishes, bandaging owies or running a business – it's the work of the Lord. It's all for His glory.
Then the promise comes…
The promise answers the question of why. Why would we live out this sometimes uncomfortable Christian life?
Because, your labor is not in vain. When we give ourselves fully to the work of the Lord, we can be assured that it will be fruitful, successful and useful.
What we do matters. It matters to God. The world is watching (so is my family)… I want them to see Christ in me.
What moves you from standing firm? Leave a comment!