"What if I Married the Wrong Person?"
"What if I married the wrong person?", she wondered out loud. This wasn't the first time I've heard this question in a counseling session.
"So they are no longer two, but one flesh. Therefore what God has joined together, let no one separate. ~Matthew 19:6
Marriage is a challenging relationship for sure. I'm coming up on 19 years and to say there have been peaks and valleys would be an understatement.
Marriage is also a marathon, not a sprint. There are points in the journey we lose focus, grow weary and inevitably wonder, "What if I married the wrong person?". Marriage is hard work no matter who you marry. It can also be very rewarding – no matter who you marry. It's easy to buy into the lie, 'what if I married the wrong person' when things get hard.
6 Biblical Truths When You Wonder, "What if I Married the Wrong Person?"
God is Using Your Spouse for Your Good

"And we know that in all things God works for the good of those who love him, who have been called according to his purpose." ~Romans 8:28
Inevitably we face challenges in marriage. Sometimes a challenging day can turn into a challenging week, then a month. We search for an escape from the difficulties we face in our marriage. And that's when we begin to question ourselves, did I marry the right person?
Regardless of who you marry, God plans to use your marriage for your good and His glory. You're calling to love others sincerely and deeply even in the face of differences, will refine you. This very refinement can be the vehicle that drives you to deeper dependence on God.
When you go to the gym – the act of lifting weights is resistance for your muscles, making you stronger and stronger. Resistance and marriage differences also make you stronger in your faith and obedience (James 1:24).
Did I Mess Up God's Plan for My Life?
"For the Lord Almighty has purposed, and who can thwart him? His hand is stretched out, and who can turn it back?" ~Isaiah 14:27.
Many wonder, what if I married the wrong person and messed up God's plans for my life?
I have good great news for you – nothing can mess up God's purpose in your life. Whether you married the right person, the wrong person or not at all… God's purpose will prevail in your life.
Isn't it a relief to know we're not powerful enough to mess up God's plan for our life?
Before you were even a thought in your parent's mind, God knew how your life would go, the choices you would make and His purpose for your life (Psalm 139). Your purpose is bringing God glory through everything you do including how you respond to and interact with your spouse, regardless of who your spouse is.
Doubts About Your Spouse Choice is Not Biblical Grounds for Divorce
"Therefore what God has joined together, let no one separate." ~Mark 10:9
When things get hard and we doubt our choice of spouse we are actually setting our path in one of the following directions.
First, we might begin to feel hopeless by giving into this thought that we've messed up our life and God's plans for us. Or, we might begin to entertain a life apart from our spouse. You know, daydreaming about how easy life would be with the "right person".
The problem with this kind of thinking is it grows and causes damage to our marriage relationship. Know this – whatever you practice in your thought life will grow. This includes a negative thoughts about your spouse.
The final and possibly bigger problem is this could lead to seeking separation and divorce. The belief that you married the wrong person is not grounds for divorce even if that person is an unbeliever (1 Corinthians 7:13).
Elizabeth Taylor married 8 times! I imagine, when things got hard she probably wondered, 'what if I married the wrong person'. So, she divorced and pursued the right person… 8 times! No matter who you choose – marriage will face difficult seasons. It's not that it's the wrong person, it's a challenging season.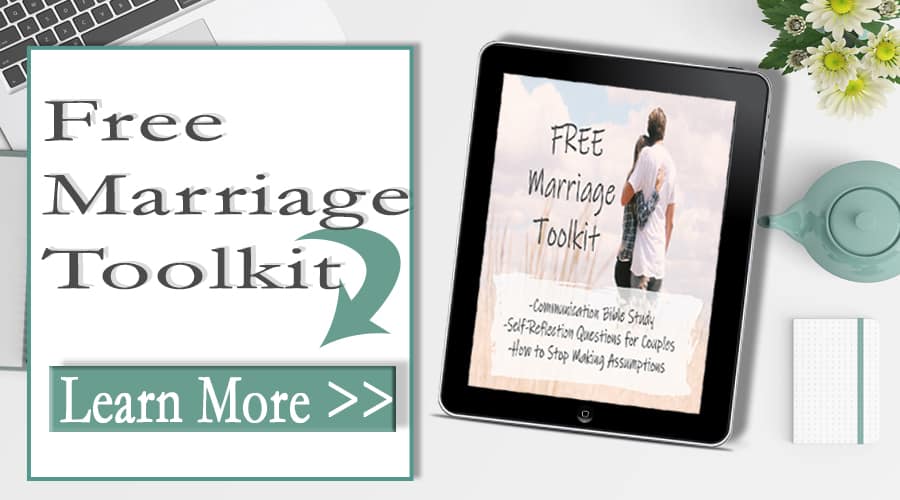 My Spouse is a Different Person – They've Changed

"Being confident of this, that he who began a good work in you will carry it on to completion until the day of Christ Jesus." ~Phillippians 1:6
The truth is, we all change! Thank goodness, too. I don't have any desire to be the woman I was ten years ago, or last year, for that matter. As believers, God is refining us, transforming as day-by-day. That's one of His promises.
Even if your spouse is an unbeliever, God is orchestrating and allowing events in your spouse's life to turn them to Him. Praise God that you and your spouse are constantly changing. It means God is working behind the scenes.
The Bible Doesn't Say There is Just One Person for You
I know the popular belief is God has the one person out there, but where does it say that in The Bible? Everything I've read gives guidelines, but doesn't actually say only one person is out there waiting to be dropped into your life. The moment you said "I do" – your spouse became the one for you.
Your Spouse Isn't Meant to be the Source of All Things for You
"Lord, you alone are my portion and my cup, you make my lot secure." ~Psalm 16:5
It's not uncommon to look to our spouse to fill our empty spaces, but it is dangerous. God never intended your spouse to fill you up and ways only God can (Jeremiah 2:13).

When marriage becomes difficult we're tempted to look at our spouse and see all the things that they are not, rather than all the things that they are.
When marriage is getting tough and you wonder if you married the wrong person – look to Christ. These difficult relationship seasons can be used by God to refine you and grow your faith
Now what?
It's time to take those questions and doubts captive. The Bible clearly tells us to think thoughts that are lovely, delightful and true (Philippians 4:8). This means, after reviewing the previous verses, the question of "what if I married the wrong person" can't be true.
Now we have to take that thought captive (2 Corinthians 10:5) identifying it for what it is – untrue. Don't give in to the temptation to continue entertaining this doubt any longer. It will only lead to increasing tension in your marriage rather than resolution.
ext, do the difficult work of taking your eyes off your spouse and put them on what's in your control. Yourself. Get the free marriage tool kit for a list of self reflection questions and other Christian marriage help and tips.
Finally, address any topics in the marriage that need work as a team. A few Christian marriage articles that might be helpful…
How to thrive in an unequally yoked marriage
How to build intimacy In marriage

Wrapping things up
If you think to yourself, 'what if I married the wrong person', – take heart. You didn't. The moment you said 'I do' they became the spouse God will use in your life for His purposes. No matter who you marry, God's purpose for your life remains and your marriage is one of the things He will use in your life for His glory.