Thriving in Unequally Yoked Marriages
SAVE THIS PIN FOR LATER! Refer back to these 10 tips, again!
The decision to write about navigating unequally yoked marriages came from a landslide of emails I received. The emails referenced an earlier article on marriage advice for wives. The article was about husbands taking the lead in marriage.
The emails I've received have been in 2 different camps. The first camp has been women telling me I'm nuts! The second camp has been women sharing their frustrations and fears in the leadership of an unbelieving (or not following Jesus) spouse. The heart of these women is to do marriage by God's design, but navigating an unequally yoked marriage has its challenges.
God's Word advises against unequally yoked marriages (2 Corinthians 6:14) because of the challenges it presents.
Whether you find yourself in an unequally yoked marriage because you came to Christ after the "I do's" or were blazing your own trail like I was almost 18 years ago, you are right where God wants you.
What I mean is this… God does not intend for you to leave your marriage (1 Corinthians 7:13). He has bigger things in store for you and your spouse.
Before we dive in…
This guide on navigating an unequally yoked marriage is meant to provide Truth to stand on and encouragement in your marriage. It would be impossible to navigate specific scenarios. But please feel free to share in the comments to receive feedback from other readers and myself.
Let's get started…
1. There is purpose in your unequally yoked marriage.
"And we know that in all things God works for the good of those who love him, who have been called according to his purpose." ~Romans 8:28
Nothing in God's economy is wasted. He uses all things for our good and His glory. Our marriages and every other relationship we have, are opportunities to grow in grace and glorify God.
Whenever we live according to God's Word, we are pointing to His glory through the love and grace we offer others. That love and grace becomes even more evident when you are in the throes of an unequally yoked marriage.
This means you have an incredible privilege. You are literally being given the opportunity to be the light of Christ to your spouse. This is no small task. And it requires you to deny yourself (John 16:24). This is part of God's purpose in your marriage.
Whose purpose are you gonna live for? Your's or God's?
2. Unequally yoked marriages reap surprising blessing.
In all challenging relationships there is opportunity for growing in grace as we are stretched by uncomfortable situations.
In an unequally yoked marriage, we find ourselves in a position of greater dependence on God. As we are pressed to walk on water like Peter, our eyes become fixed on Christ and our faith is grown. We reach new levels of surrender, with nowhere to put our trust, but in God. In other words, your marriage can increase your trust. And trust increases peace and joy (Romans 15:13).
"Give thanks in all circumstances; for this is God's will for you in Christ Jesus." ~1 Thessalonians 5:18
There is good in all circumstances. Spend time daily thanking God for the blessings of an unequally yoked marriage. We must be purposeful in finding the good.
3. Your unequally yoked spouse is not greater than God.
"I know that you can do all things; no purpose of yours can be thwarted." ~Job 42:2
Often times an unequally yoked marriage can bring about a great deal of fear. You may fear that your spouse will not come to salvation. Fear of the impact of an unbelieving spouse on the children is also common. These truly are the realities of an unequally yoked marriage.
Let's evaluate truth for a moment.
We must be careful not to elevate the power a person has above the power of God. When we buy into the lie that our spouse is more powerful than God, we tend to react in a way that is not Christ like. For instance, when we live in fear and frustration we might try to control the people and circumstances around us to regain a sense of security. This sense of security is what I call a quick win. It will only last until the next thing comes up. In other words, God's purposes will prevail despite your spouse's unbelief.
"Fear of man will prove to be a snare, but whoever trusts in the Lord is kept safe." ~Proverbs 29:25
When we choose to believe the power of God and lay aside our fears of the potential impact an unbelieving spouse has on our family, we walk in peace.
Now back to the impact of an unbelieving spouse. I want you to look at the situation as a circle. The inside of the circle is what you have control over (your thoughts, words and actions). Anything outside of the circle of control, you entrust to God.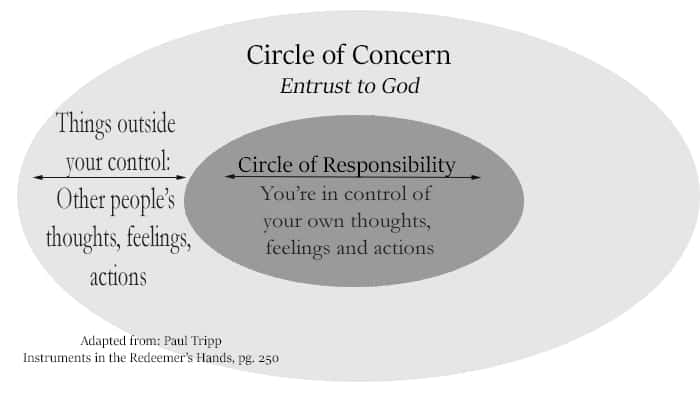 Even though your unequally yoked spouse may not demonstrate or teach God's Word, the way you'd like, it doesn't mean you can't demonstrate and teach your children. God will accomplish what He purposes through you.
"So is my word that goes out from my mouth: It will not return to me empty, but will accomplish what I desire and achieve the purpose for which I sent it." ~Isaiah 55:11
4. You're not sleeping with the enemy.
Your spouse is not the enemy. The more you and your spouse push and pull in opposite directions, the more likely you are to view each other like enemies rather than allies.
"For our struggle is not against flesh and blood, but against the rulers, against the authorities, against the powers of this dark world and against the spiritual forces of evil in the heavenly realms." ~Ephesians 6:12
It is imperative that you shift your focus to a biblical world view… know your enemy. Knowing your enemy will give you wisdom and direction in the battle.
Everything I've listed so far is more passive. Focused more on how to view your circumstances from a biblical perspective.
Now let's talk action. I have to warn you that the action I'm talking about might not be what you had in mind, but hang in there! See this all the way through to the end.
5. Pray for your unequally yoked marriage.
"The prayer of a righteous person is powerful and effective." ~James 5:16b
This is one of the most powerful weapons in your spiritual arsenal. We can easily be tempted to wallow in discouragement when we don't see results, but rest assured, God is working things out behind the scenes in ways we don't realize. He's working things out in ways that we may never know this side of heaven. Whatever you do, don't stop praying (1 Thessalonians 5:17).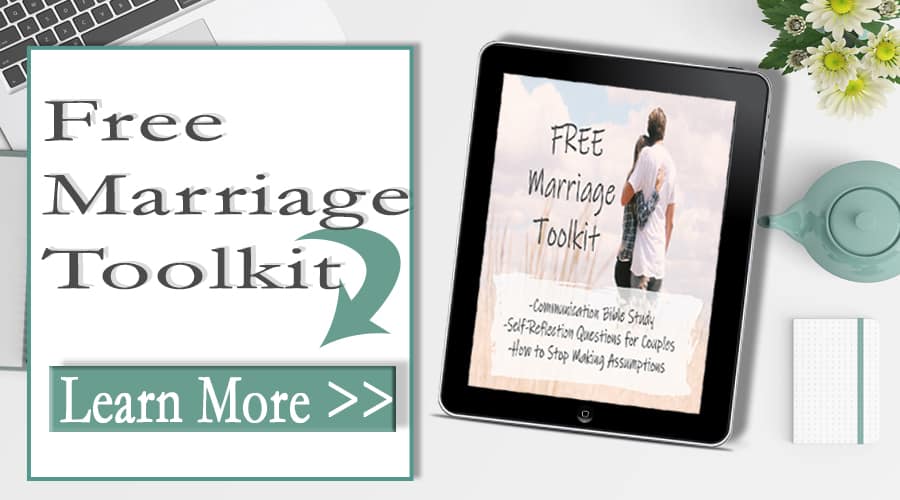 6. Be patient in your unequally yoked marriage.
Time flies, but the days can be long, especially if you've been resisting your circumstances. You are likely in a season of waiting. Stand firm in your faith, waiting on God's timing. Keep busy with whatever is within your circle of control.
"Therefore, my dear brothers and sisters, stand firm. Let nothing move you. Always give yourselves fully to the work of the Lord, because you know that your labor in the Lord is not in vain." ~1 Corinthians 15:58
If you're married to someone whose faith is not as deep as yours, be patient with the differences (Romans 14:1).
7. Actions speak louder than words.
"In the same way, let your light shine before others, that they may see your good deeds and glorify your father in heaven." ~Matthew 5:16
Jesus tells us to be the light and God receives the glory. Take note – you don't hear light, you see it. Peter tells us in 1st Peter 3:1, to win our spouses over to Christ with our behavior rather than words.
Far too often we form a pattern of nagging and correcting. This pattern will leave both partners weary, robbed of energy, joy and peace. Stay in your own circle of control. Be silent and let God fight your battles (Exodus 14:14).
8. Choose your battles wisely.
It takes an incredible amount of wisdom to choose wisely between when to hold'em and when to fold'em. If I could have a marriage do over… this would be it. After months or even years of pulling in different directions we start to stand our ground, willing to die on every hill, for every cause. It becomes all out war in our marriage.
I'm often asked, "What if my spouse doesn't follow Jesus?" "What if my spouse doesn't go to church?" My answer is…your life and ministry might not be what you imagined. Your church involvement will probably not be what you hoped for. Consider that you made need to step away from extra church activities for a season while you wait on God to move in your heart and your spouse's heart.
Entrust it all to God. Be prayerful and seek godly counsel before deciding when to speak the truth in love.
9. Stop trying to strong arm your spouse into salvation (or a deeper walk).
Christ does not intend to save your spouse by force! He also does not intend to force your spouse into a deeper relationship with Him. Follow Christ's example…don't be forceful.
If you're strategically placing scripture cards, bibles and salvation tracks around the house – stop. Instead, start praying for your spouse's heart. The prayers of a righteous person are powerful and effective (James 5:16b).
10. Strong resistance is a red flag.
Sometimes we get so deep in the trenches, our focus becomes our self and our own experiences. I encourage you to take a deeper look within.
I found myself deep in the trenches at one point in my marriage. My heart was hardened – my marriage had become all out war. It took a sincere friend to point out my lack of love as well as my lack of consideration for my spouse and his feelings.
It became clear that much of the resistance from my spouse had a lot to do with me and my actions. I had work to do within my circle of control. It's not that my spouse didn't have work to do too, but I had become distracted. Consequently, I was looking so closely at his flaws that I forgot to evaluate my own.
If you're experiencing a lot of resistance from your spouse, I encourage you to evaluate your own thoughts, words and actions. Change has to start with someone. And your time is best spent taking a hard look at your own heart. That's in your circle of control.
Let's wrap it all up…
I would dare to say there are a lot of unequally yoked marriages out there. You're not alone in this. God intends to use unequally yoked marriages for His purposes and unexpected blessing is found in those marriages.
In order to be effective for the kingdom of God, we must remember that our spouse is not more powerful than God and our spouse is also not the enemy.We are called to be patient with the differences and prayerful.
Souls are at stake here. Remember that you're working for God's kingdom (not yours). Choose your battles wisely and demonstrate Christ likeness instead of nagging and correcting.
If you're experiencing significant resistance in your marriage – it's time to evaluate changes to be made on your part.
Always remember that nothing is impossible for God, including your unequally yoked marriage (Luke 1.37)!
Leave a comment about a specific challenge you're facing in your own unequally yoked marriage or encourage someone else who shares.
Are you faced with the challenges of an unequally yoked marriage? Would you like to learn some new strategies in the midst of differences between you and your spouse. Schedule a few Christian Counseling sessions here.