Marriage Advice for Wives
Marriage advice… for wives? I smile as I reflect on almost 18 years of marriage. Since this is a site authored by a Christian counselor, you would think I would write marriage advice from the perspective of therapist. But no. Today I'm going to write from personal experience.
Let's get started with our purpose in marriage…
We are made for a purpose – bring God glory. We accomplish this from the tiniest acts of obedience all the way up to the grandest scale. This very truth is applicable to marriage. As I look back over the past 18 years of marriage, I can now see how often I pursued my own purposes rather than the purposes of God.
I wasted a lot of years living life this way. I wish I could tell you that I've arrived as a wife, but this journey will not end the side of heaven. In total transparency, I could write a book and it would be titled, "How to Ruin Your Marriage One Choice at a Time".
For the sake of time, I'm going to share a piece of marriage advice that got my role as wife lined backup with God's purpose for my life. The result? I'm living more in line with God's purpose-bringing more peace and joy.
As I share this advice, keep a few things filed away…
This advice will not change whatever challenges you face in your marriage. See, this advice is for you, not him. You are only in control of you and your own choices.
Let your goal be to bring God glory by living His purpose for your life. If your goal is to change your husband (by changing yourself), you will be frustrated and give up.
Don't let your circumstances guide your choices. Rather, let God's Word and His purpose for your life guide your choices.
Are you ready to dive into this marriage advice I keep talking about? I want to warn you in advance, that you've heard this before if you've been a Christian for any period of time. But stay with me! I'm going to unpack the lies we believe that keep us from acting on what we know.
The enemy wants nothing more than to keep you from your God-given purpose as wives. I made the mistake of thinking my marriage was unique therefore, God's purpose didn't apply to me. Don't make this mistake!
All right, let's do this…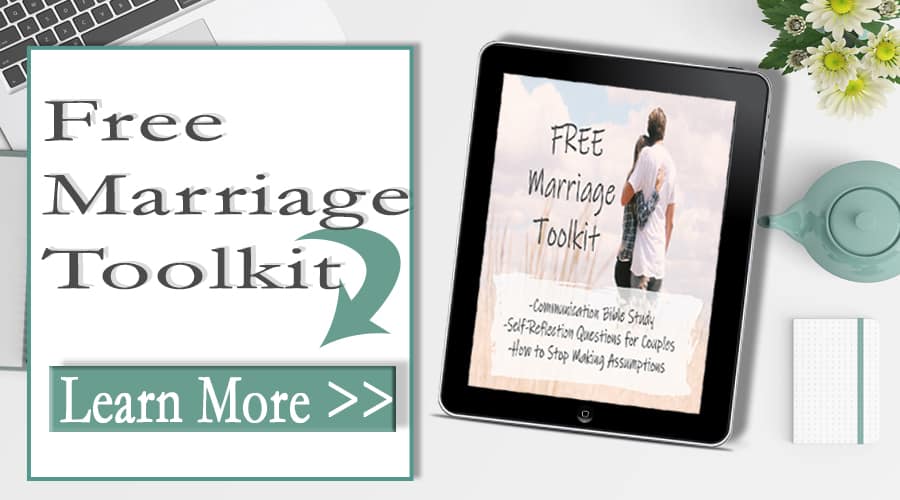 Marriage Advice for Wives
Let your husband lead. Wait! Don't go! There's more…
"Wives, follow the lead of your husbands as you follow the LORD. The husband is the head of the wife, just as Christ is the head of the church. The church is Christ's body. He is it's Savior. The church follows the lead of Christ. In the same way, wives should follow the lead of their husbands in everything." ~Ephesians 5:22-24
As a Christian wife you've heard this a million times, but it's foundational to a great marriage.
These three verses spell out the marital roles quite clearly. It's not complicated. My husband's job is to lead and my job is to follow. It sounds so simple. Right? It is simple, as long as everyone is doing their job… Uh oh, it just got complicated.
Let's set the stage. Marriage is a union between a husband and wife. Both are sinners doing the best they can in a broken world.
So often we get caught up in role confusion. Wives try to lead, men begin to follow. In the short run this may get the job done, however we are ultimately living outside of God's design for marriage.
Either we trust God's design or we don't. After all, He is the Creator of the World and Master of the Universe. He probably knows a thing or two about marriage since He authored it.
In my own marriage, I made excuses for taking the lead. I essentially told God, "I would do it Your way, but my situation is different". I hear many other women making the same excuses I did…
Wives commonly buy into three lies.
He won't step up and take the role of leader.
He doesn't make wise decisions.
I know better.
Have you ever bought into any of these lies?
More Christian Marriage Advice
Choose God's design. No. Matter. What. Our obedience is the direct route to a purpose driven life. Never let another's behavior send you down a different path than the one God designed for you.
Our obedience is the direct route to a purpose driven life. Never let another's behavior send you down a different path than the one God designed for you.
Lie #1
Maybe your husband isn't diving into the role of leader, but taking over the role for him isn't going to get him there. It only gets the job done in the short run. You'll wind up chasing quick wins rather than looking long-term.
Lie #2
Maybe he doesn't make wise choices in your opinion… So you take over. I'm going to offer a couple of possibilities here. One, he truly has a pattern of making unwise decisions, but consider this. The best life lessons are born out of failure. Get out of the way and let God do the work (Romans 8:28). Or two, he is stepping into the role of leader and it's not looking the way you imagined. So you take over.
Lie #3
You think you know better. While I bought into all three lies – this one was the biggest for me. As a therapist I felt totally equipped (A.K.A. always had an opinion) to offer input regarding our marriage and parenting. All. The. Time. Imagine being married to me! Yikes! There is always more than one way to do things. Always.
The root of all three lies is fear. Fear of the outcome. Fear can lead us to control and take over. I encourage you to step into your fear and let it drive you to prayerful dependence on God.
Encouragement
Remember, the role of leader over a home and family is a tremendous amount of pressure. Your husband wants to do it well-believe that! As wives we have the privilege to encourage, love and pray for our spouses.
Stepping into the role of follower is a big shift if you've been leading. Prayerfully identify a few areas you need to start with. This shift will throw off the balance in your home for awhile, but push through. Keep your eyes on Christ and His design for your marriage.
Keep in mind that everybody and every marriage is unique. I don't want your take away to be a picture of barefoot and pregnant and calling him Sir! But I do want you to evaluate the roles in your marriage. It's a great conversation to have with your spouse.
Marriage Advice for Wives Wrap-up
It's easy to find yourself in role confusion in marriage. God's design for marriage is husbands lead and wives follow. As wives we buy into lies such as, "My husband won't lead", "He makes unwise choices" and "I know better".
We make excuses for doing marriage our own way because we're afraid of the outcome… So we control and take over the lead.
As you step into the role of follower remember that your husband wants to do well-believe that. It's a privilege to be the encourager and prayer warrior for your spouse. Let your end goal be to live out God's purpose for you in your marriage, all for His glory.
What area are you going to stop leading today? Leave a comment!
Are you frustrated by marriage? Would you like to learn some new strategies to improve your marriage today?
Need a few new strategies for relating well in your marriage? Change can start with one! Check out online Christian Counseling.