How to Stop Feeling Insecure {4 Simple Tips}
Learning how to stop being insecure is for everyone…
Before we dive into how to stop being insecure, I want to level the playing field. This article isn't just for some. It's for everyone.
Why?
Every single person deals with feeling insecure in some way, shape or form. Even the people you think seem really confident and have everything figured out – you know who I'm talking about. Even those people face insecurities.
Seriously… it's not just you (and me).
So I've got good news and bad news.
The bad news is… you will never stop experiencing some level of insecurity. Different seasons in our lives can cause doubts and uncertainties, heightening our sense of feeling insecure.
However, the good news is we can learn how to stop being insecure in those seasons. We can choose to do a new thing, facing those insecurities in a new way. Like anything, practicing a new pattern for living takes time.
More good news, you are equipped with everything you need for the life God has purposed for you (2 Peter 1:3). Next time insecurity pops up-we are gonna have a battle plan. By rightly facing those self-doubts, we will crush insecurity before it grows.
What exactly does being insecure mean?
Insecurity is a sense of uncertainty, anxiety or self doubt. Anxiety is another word for fear, which means insecurity is tied to fear.
Common areas of insecurity are in body image, relationships, personal capabilities and future/provision (this isn't an exhaustive list).
Are you feeling insecure in any of these areas? If so, you're not alone. Remember, everyone faces insecurities of their own. Even though the area or extent may differ, everyone faces insecurity.
What causes feelings of insecurity?
In order to learn how to stop being insecure, it's helpful to know how these self doubts start.
First, we have what are called 'core beliefs'. Core beliefs are the way we see ourselves, others, the world and the future. These beliefs begin setting themselves up during our childhood based on our childhood experiences.
Even though these core beliefs may or may not be true – they are the lens we tend to view life through.
Side note – being grounded in the Word of God gives us the ability to crush false core beliefs with Truth. That's right…core beliefs can be false.
Looking at ourselves, others, the future and the world through a biblical lens is the most important part of learning how to stop being insecure. In fact – the Word of God is part of each of the strategies I outline to learn how to stop being insecure.
Ready?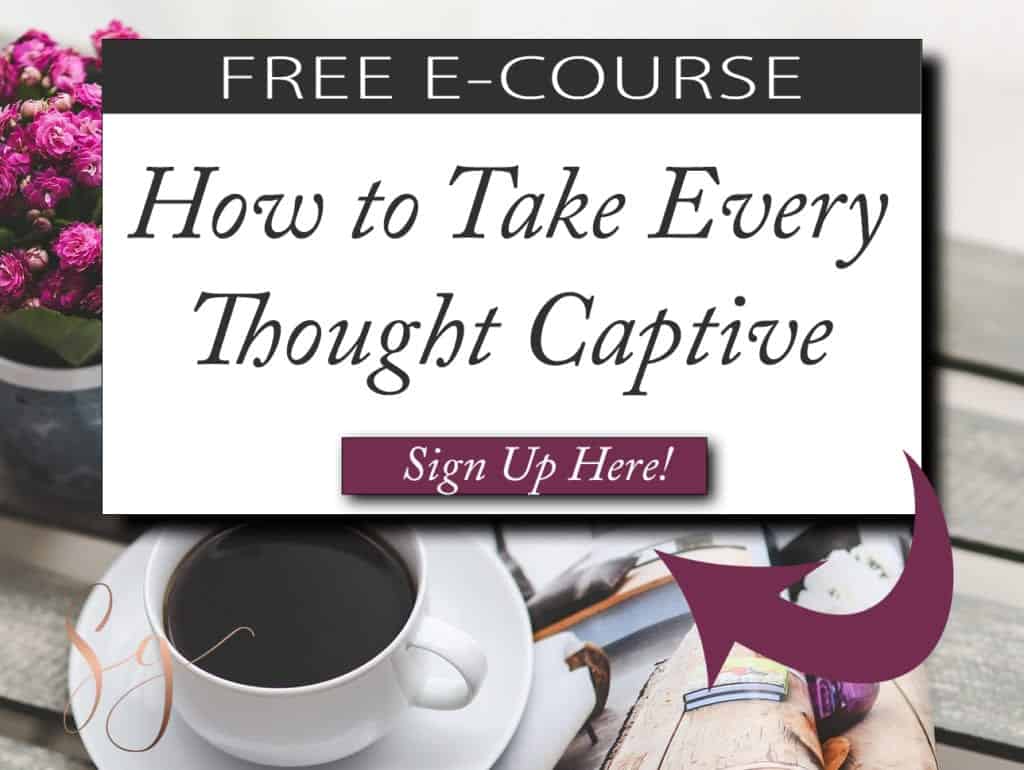 4 Strategies to learn how to stop being insecure.
1. Know Your Value.
We are in the market for a new home. I'm constantly scrolling my phone over listings in the area we want to move. One day, I came across an amazing house that was exactly what we were looking for at a price that was too good to be true. The house was listed as "for sale by owner"…and he undervalued his home tremendously. He based the price on what he thought rather than what the market value was for his home.
We make this same mistake when we rely on our own estimation of our value rather than God's estimation of our value. This is where these core values come into play. The way you view yourself is heavily influenced by your childhood experiences. We can't be the one who determines our value -God has already determined that for you. And you are so valuable that he died for you.
We also cannot rely on others' estimation of our value…
Insecurity inevitable pops up when we see ourselves through the eyes of others. Breathe that one in for a minute. Do you evaluate your self worth based on how others are treating you? If so, you are literally at the mercy of other people's moods and opinions. That is not a place you will find rest. Think about it for a minute. Do your moods and opinions change? Mine do…Moods and opinions are unstable at best (more on that here).
This is where we use Scripture to separate lies and Truth. Scripture is the key to learn how to stop being insecure. Are you going to believe what you (or others) think your value is or are you going to believe what your Creator says about you? The entire Bible is a love story, emphasizing God's love for His people. Find Bible verses and meditate on who God says your are.
Praise be to the God and Father of our Lord Jesus Christ, who has blessed us in the heavenly realms with every spiritual blessing in Christ. For he chose us in him before the creation of the world to be holy and blameless in his sight. In love he predestined us for adoption to sonship through Jesus Christ, in accordance with his pleasure and will— to the praise of his glorious grace, which he has freely given us in the One he loves. ~Ephesians 1:3-6
2. Release fear.
I love Zach Williams new song, "Fear is a Liar". Check our the lyrics (first couple verses)….
When he told you you're not good enough
When he told you you're not right
When he told you you're not strong enough
To put up a good fight
When he told you you're not worthy
When he told you you're not loved
When he told you you're not beautiful
That you'll never be enough
Fear, he is a liar
He will take your breath
Stop you in your steps
Fear he is a liar
He will rob your rest
Steal your happiness
Cast your fear in the fire
'Cause fear he is a liar
The chorus outlines different aspects of fear (which is tied to insecurity) such as, how it keeps you from moving forward, steals joy and robs you of rest. We can't feed on fear, it will only grow bigger. We must stop and trade lies for Truth. Do a topical study on God's love for His people or on your identity in Christ. Know what God says about you!
3. Change your thinking.
Our thought life has such a huge impact on the lens through which we view the world. If you are in the habit of ruminating on thoughts that are not good for you (more on that here and a free bible study) and create self doubt, uncertainty and anxiety then it's time to put on some new thoughts. Anything we tend to, will grow. If I tend to my garden with water and food it will grow. Tending to my thoughts with negativity and fear will also grow. Similarly, devalue-ing myself in my thoughts, will grow too. It is with the Word of God that we fight thoughts that are not good for us. Again, Scripture is the key to learn how to stop being insecure.
"We demolish arguments and every pretension that sets itself up against the knowledge of God, and we take captive every thought to make it obedient to Christ." ~2 Corinthians 10:5
4. Don't be guided by emotions.
Beware of letting your emotions guide how you view the world around you. Those thoughts that are not good for you, that we just talked about, will drive your emotions. Furthermore, we act on our emotions and emotions are not reliable guides. Especially if they are based on what we think and what we think and feel are not facts! That was a mouthful!
When you are trusting your emotions to tell you who you are or what you can do, you put yourself at risk to believe the wrong thing. As a result, this will lead to feeling more insecure in who you are and in your abilities.
"Above all else guard your heart, everything you do flows from it." ~Proverbs 4:23
How to stop being insecure: Wrap up
I can't stress enough the importance of using God's Word to battle against the lies we tell ourselves or the messages the world sends our way. Specific areas that need to be addressed with God's Word include knowing your value. We can't use our own or other's estimation of our value as the scale for our worth. The second area is fear. Fear is a liar! The enemy uses fear to keep God's people stagnant and frozen rather than living our purpose. Finally, our thoughts are the battleground that starts feeding the insecurity. We have to fight our thoughts, because our thoughts lead to emotions and then to actions. The thinking that maximizes our insecurities needs to be put off!
Consequently, all of these strategies are only effective with the Word of God as the plumb line for Truth. Equipped with the Word of God, we can crush insecurity!
Share a verse that you think would encourage someone in this area of insecurity in the comments below!